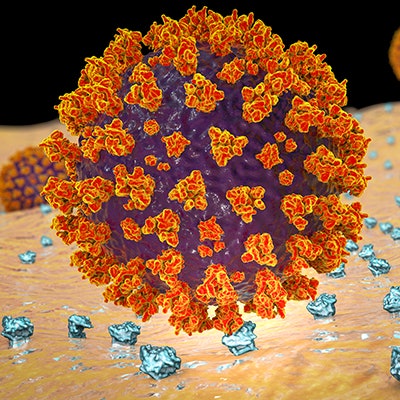 Researchers at the University of Utah, University of Toronto, and other institutions have recently reported that they are developing a serological assay that measures the neutralization activity of anti-SARS-CoV-2 antibodies directly from convalescent or vaccinated sera.
In a study published recently in Nature Communications, the developers reported reconfiguring an earlier serological assay that they had developed based on a tri-part split-NanoLuc, a novel bioluminescence platform, to detect antibodies that bind to the SARS-CoV-2 spike protein.
The new assay requires shorter preparation and run times than current neutralization assays, the group said.
"Although assays to measure binding antibodies against SARS-CoV-2 are widely available, more specific tests measuring neutralization activities of antibodies are immediately needed to quantify the extent and duration of protection that results from infection or vaccination," the researchers wrote.
Assays that detect and measure antibodies against SARS-CoV-2 are available; the U.S. Food and Drug Administration (FDA) has granted Emergency Use Authorizations (EUAs) for many tests that detect antibodies against SARS-CoV-2.
Neutralizing antibodies bind to a specific part of the pathogen and decrease SARS-CoV-2 viral infection of cells. In November 2020, the FDA authorized the first serology test that detects neutralizing antibodies from recent or prior SARS-CoV-2 infection; the GenScript USA cPass SARS-CoV-2 Neutralization Antibody Detection Kit specifically detects neutralizing antibodies.
Nonetheless, the FDA has continued to cautioned patients against using the results from the test -- or any serology test -- as an indication that they can stop taking steps to protect themselves and others.
"There are still many unknowns about what the presence of SARS-CoV-2 antibodies may tell us about potential immunity, but today's authorization gives us another tool to evaluate those antibodies as we continue to research and study this virus," Dr. Tim Stenzel, director of the Office of In Vitro Diagnostics and Radiological Health at the FDA's Center for Devices and Radiological Health, said in a statement at the time the FDA issued the EUA to GenScript.
"Patients should not interpret results as telling them they are immune, or have any level of immunity, from the virus," he added.
Most serology assays capture and detect antibodies that bind to the SARS-CoV-2 spike or nucleocapsid proteins, but they do not measure neutralization efficacy. To quantify the extent and duration of protection from obtaining a SARS-CoV-2 infection, more specific tests that determine the antibodies' neutralization activities are needed, the researchers noted in their paper.
At the same time, the importance of a virus neutralization assay has risen as the COVID-19 pandemic has evolved, and virus neutralization assays are the main tools for developing vaccine and therapeutic strategies, they noted.
"Although pseudovirus neutralization (PSV) assays are effective in measuring the degree of infection, maintaining cell cultures and making pseudovirus particles are labor intensive with potential safety concerns," the authors said, adding that "batch-to-batch variability in virus production and cell transfection efficiency limit standardization and robust assay results."
To circumvent such challenges, the group developed a homogeneous surrogate virus neutralization assay using a split-luciferase system by reconfiguring their previously designed serological assay, which is based on a protein-protein interaction approach for detection of IgG antibodies against the SARS-CoV-2 spike protein.
"As the assay is modular, we further demonstrate that [it] enables rapid assessment of the effectiveness of vaccines and level of protection against existing SARS-CoV-2 variants of concern and can ... be readily adapted for emerging variants," the researchers wrote.