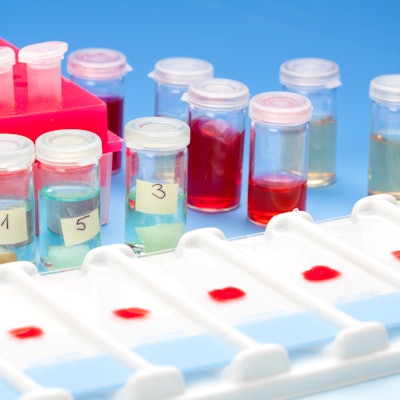 A new test for SARS-CoV-2 viral proteins may help identify COVID-19 patients most at risk for becoming critically ill, according to a study published September 8 in Clinical Chemistry.
The single-molecule array Simoa SARS-CoV-2 antigen test is the first to detect and measure blood levels of S1, a protein that is part of the viral envelope of the novel coronavirus. Identifying patients most susceptible to severe complications may help healthcare workers better manage these patients and ensure that space is available at intensive care units (ICUs), according to the study.
Researchers at Brigham and Women's Hospital and Harvard University, who developed the test, evaluated its performance on 64 patients who tested positive for COVID-19 via standard diagnostic polymerase chain reaction (PCR) tests.
The patients had the following S1 levels:
23 had undetectable concentrations.
23 had low concentrations of 6 pg/mL to 50 pg/mL.
18 had high concentrations that were greater than 50 pg/mL.
The researchers found a link between high concentrations of S1 and admissions to ICUs. In all, 77% of those with high concentrations were admitted to the ICU and required intubation within one day of coming to the hospital. What's more, 52% of patients with low concentrations needed intensive care, and only 30% of those with undetectable levels were admitted to the ICU, according to the results.