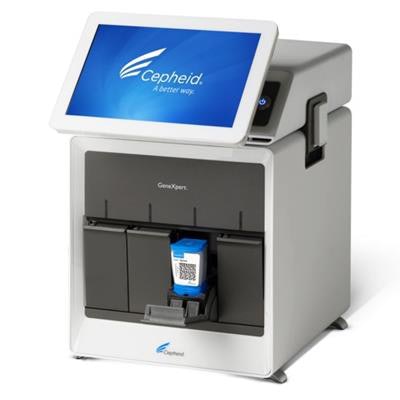 Danaher's Cepheid is set to start shipping a new ultrafast molecular point-of-care (POC) test soon for the novel coronavirus, after securing an emergency use authorization (EUA) from the U.S. Food and Drug Administration (FDA).
Cepheid's Xpert Xpress SARS-CoV-2 test is the first POC product to receive an EUA, the FDA noted in a statement.
"With today's authorization, there is now an option for testing at the point of care, which enables patient access to more immediate results," FDA Commissioner Dr. Stephen Hahn said.
Cepheid has designed a cartridge that runs on its existing GeneXpert platform, which will save at least 23,000 locations, including 5,000 in the U.S., from needing to get a new instrument. The company said it will start shipping the new test this week.
In a statement, the company noted that the product is designed to deliver results in 45 minutes and will meet the need for an on-demand diagnostic for real-time management of patients being evaluated for admission to healthcare facilities.
Cepheid was among the companies that were likely candidates for an early EUA for coronavirus testing, based on its track record in testing for other infectious diseases and Kalorama Information market research. As small-footprint, near-patient systems, molecular POC (mPOC) products are well-placed to play an important role during the pandemic.
Other near-patient systems have been developed by Singapore-based Credo Diagnostics Biomedical, which has received a CE Mark for its test, and GenMark Diagnostics, whose partially automated ePlex SARS-CoV-2 test received an EUA last week.
But Cepheid's new test is a significant development for the following reasons:
Cepheid's product has a greater installed base than other systems and a design that fosters easier use in a clinical setting.
The speed of 45 minutes is much faster than any approved test Kalorama has read of so far -- several magnitudes faster than the speed of the tests recently approved.
No specialty operator training is required to administer the test and determine a result. This means it can be used in a doctor's office or retail clinic; 45 minutes is a brief enough time to await results at the point of care under normal circumstances.
Extraction steps using a kit are not necessary; this is handled in the machine. There are currently backlogs with such kits at major manufacturers.
Kalorama's market research has predicted that mPOC tests will lead the fight in meeting the demand for COVID-19 testing with accurate and fast results. Lab staff is at a premium, hospitals are taxed, and testing needs to happen where it can be useful to isolate patients. Our latest report on the market was released March 4.
Bruce Carlson is the publisher of market research firm Kalorama Information, part of Science and Medicine Group.
Disclosure: LabPulse.com is a sister company of Kalorama Information.