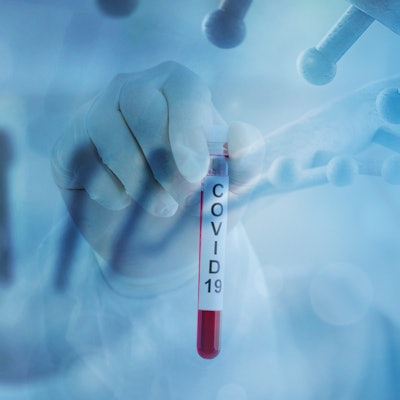 Levels of SARS-CoV-2 nucleocapsid (N) antigen in the blood of patients who have been hospitalized with COVID-19 can indicate potential illness severity and other clinical outcomes, according to a study recently published in the Annals of Internal Medicine.
The study by researchers at the National Institutes of Health (NIH) National Institute of Allergy and Infectious Diseases (NIAID) was a cross-sectional follow-up analysis involving 2,540 participants who had been previously enrolled in the Therapeutics for Inpatients with COVID-19 (TICO) platform trial.
The participants had been hospitalized for acute SARS-CoV-2 infection and had experienced symptoms for 12 days at most.
The study, conducted in 114 centers and 10 countries, was funded by the U.S. government's Operation Warp Speed as well as the NIH National Institute of Allergy and Infectious Diseases.
It is generally understood that ongoing immune system responses to COVID-19 contribute to patient outcomes, but the extent to which this occurs has yet to be explored.
"The extent to which ongoing SARS-CoV-2 viral replication versus the host immune system contributes to the severity of disease, pathogenesis, and mortality of SARS-CoV-2 infection in hospitalized patients is uncertain," the authors said.
Over a period of 16 months, from August 2020 to November 2021, the researchers collected plasma samples from patients using nasal swabs and extracted SARS-CoV-2 viral DNA. They measured N antigen levels using a microbead-based immunoassay. In addition, they measured the presence of anti-spike neutralizing antibodies and Anti-N pan-immunoglobulin positivity.
Most participants were men (58%), and 81% had not received a full or partial vaccine dose.
The study found that 57% of the overall patient population exhibited elevated plasma antigen levels, classified as at least 1,000 ng/L. The same percentage of participants also demonstrated decreased pulmonary function at day five of the study, regardless of how ill they were when they enrolled in the study.
High antigen levels were also found in those who had experienced more than a week of symptoms, those who were older than 65, those who had underlying renal impairments, and those who were male. The highest levels were found in those with the Delta variant of COVID-19.
In contrast, the authors noted that other risk factors that had been associated with the severity of COVID-19, "such as race, ethnicity, immunosuppression status, obesity, and presence of other comorbidities were not associated with plasma antigen levels in this analysis."
Lower antigen levels were associated with the presence of SARS-CoV-2 antibodies, as well as exposure to Gilead Sciences' broad-spectrum antiviral medication remdesivir prior to patient enrollment.
Another finding was related to the duration of hospitalization that patients experienced. Participants with antigen levels greater than 1000 ng/L in their bodies remained in the hospital for a median of seven days. Meanwhile, those with less than 100 ng/L were discharged from the hospital after a median of four days.
Based on this data, the researchers believe that plasma antigen levels can be used to suggest the viral pathogenesis that occurs in patients with COVID-19 and could indicate the presence of ongoing viral replication following hospitalization. They also believe that the data indicate that antigen levels could function as a useful biomarker to predict patient outcomes.
"These results suggest that a precision medicine approach to inpatient COVID-19 clinical trials is needed, with a substantial portion of patients hospitalized with acute SARS-CoV-2 infection potentially more likely to benefit from antiviral therapy," the authors wrote.
Nonetheless, the authors of the study noted key limitations in its results and methodology. Antigen levels were measured only at the time of study enrollment and not the time of hospital admittance. In addition, some patients had received remdesivir before enrolling in the study.
The study also closed enrollment before the Omicron variant wave arrived, meaning that the data reflected only the Delta variant, and lacked information about Omicron.
The authors suggest that future trials will require the development and validation of point-of-care (POC) tests to measure plasma antigen levels.