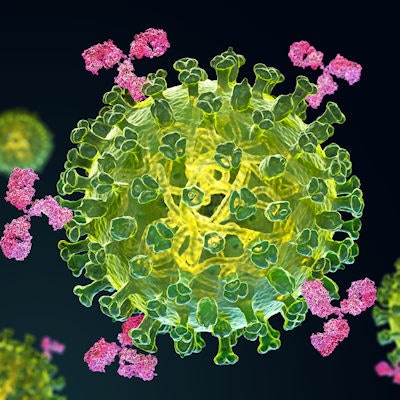 Through a broad survey of participants in a clinical study, researchers have determined that rapid antigen tests remain accurate for detecting variants of SARS-CoV-2, such as pre-Delta, Delta, and Omicron variants.
The research, led by a team at the University of Washington in cooperation with University of Nevada, concluded that two rapid antigen tests -- i.e., SCoV-2 Ag Detect Rapid Self-Test (InBios International) and Binax NOW COVID-19 Ag Card (Abbott Laboratories) -- had consistent analytical and clinical accuracy across three phases of circulating forms of the SARS-CoV-2 variants.
The findings, published this week in the JAMA Network Open journal, indicate that home-based rapid antigen testing programs could be an important tool for reducing global SARS-CoV-2 transmission.
The clinical study enrolled 802 participants; 467 were female and 335 were male. Of this group, 424 had not received COVID-19 vaccination. All participants had presented onset of symptoms at a median of two days.
The researchers found no significant differences within this group in the analytical limit of detection or clinical diagnostic accuracy of rapid antigen testing across SARS-CoV-2 variants.
The impetus for the research came from some of the doubts surrounding antigen-based arrays.
While rapid diagnostic tests can be used to diagnose acute SARS-CoV-2 infection, antigen-based assays that rely on antibody conjugation for capture and detection of viral proteins have not been universally accepted for diagnostic testing. Nonetheless, rapid antigen-based diagnostic tests have become widely used in home-based settings and have helped expedite treatment initiation, as well as to optimize isolation periods.
However, the role of rapid diagnostic tests becomes more unclear when considering the variants of SARS-CoV-2. These variants have sequence variations in the viral genome that may alter the accuracy of rapid diagnostic tests.
These sequence variations become problematic for antigen tests that may require multiple sequence variations to change the confirmation of viral protein epitopes. For instance, the Omicron variant has numerous sequence variations in the spike and nucleocapsid proteins, which has raised concerns from the U.S. Food and Drug Administration about the analytical and clinical accuracy of rapid antigen-based diagnostic tests.
While this study had the benefit of being representative of the SARS-CoV-2 variants prevalent over a 12-month period, it did have some limitations. One factor that may have limited it was that it used a five-day testing window from the onset of symptoms. While this testing window is the approved period of use for these rapid diagnostic tests, it may not reflect the full spectrum of clinical testing. In order to address this limitation in the research, additional clinical and analytical comparative studies may be needed for other rapid antigen tests.
Furthermore, the Omicron strain that was evaluated in this study was BA.1. The analyses did not include more recent Omicron strains, such as BA.2 or BA.2.12.
Despite these limitations, the researchers concluded in their report: "In this diagnostic study, analytical and clinical performance data demonstrated the preserved accuracy of two rapid antigen tests across SARS-CoV-2 variants among adults with COVID-19 symptoms. Rapid antigen tests may correlate with the recovery of replication-competent SARS-CoV-2 and appeared to retain accuracy across variants."