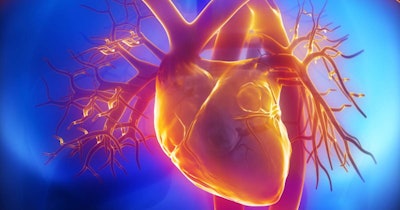 Daxor on Tuesday announced the results of a study showing the benefits of its BVA-100 blood test to measure intravascular volume overload in heart failure patients.
The study, published in the Journal of Cardiovascular Translational Research, compared the efficacy of measuring total blood volume (TBV) with the BVA-100 test with measuring pulmonary artery diastolic pressure (PADP) with a commercially available implantable monitor. TBV and PADP are considered key metrics in determining heart failure outcomes and response to therapy.
The study results showed a consistent lack of correlation between PADP and TBV, highlighting the need for accurate volume measurement to provide a complete assessment in guiding clinical management decisions. The BVA-100 blood test has been shown in studies to have 98% accuracy, Daxor noted.
"More than 135 published peer-reviewed studies, and over a dozen this past year alone, have proven that blood volume analysis informs clinicians with critical information to manage and treat volume derangements in heart failure and many other medical conditions," Michael Feldschuh, president and CEO of Daxor Corporation, said in a statement. "This study adds further validation that surrogate markers are not accurate for volume management compared to direct and objective measurement with blood volume analysis. Mounting evidence continues to support substantial improvements in mortality reduction, hospital readmission and length of stay, and costs from the use of our highly accurate diagnostic."