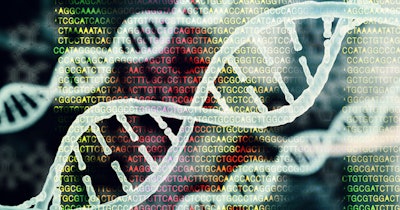 Increased use of genetic testing means that people may discover they have an incidentally-found genetic abnormality, or gene variant, associated with cardiovascular disease (CVD), according to a scientific statement published Monday in the American Heart Association journal Circulation: Genomic and Precision Medicine.
The statement aims to help individuals and healthcare professionals understand what to do if such a variant is discovered.
The scope and use of genetic testing have greatly expanded with the increasing ease and reduced cost of DNA sequencing. However, genetic testing may yield unwanted surprises, including gene variants potentially associated with CVD.
Such variants are often found incidentally when people undergo genetic testing for non-cardiac reasons, including screening for other diseases. Genetic variants may also be discovered through consumer DNA test kits.
Since incidentally identified gene variants may or may not be disease risk factors, accurate interpretation is essential. Incorrect interpretation may lead to inappropriate care, either through suggesting patients have cardiac disease risks when they do not, or by not providing care to those with increased risks.
"The list of incidental variants related to cardiovascular disease continues to evolve," Dr. Andrew Landstrom, chair of the scientific statement writing committee and associate professor of pediatrics and cell biology at Duke University School of Medicine, said in a statement. "It's important to consult with genetics specialists to custom-tailor an evaluation and treatment plan in order to ensure the highest level of care possible."
The scientific statement focuses on inherited monogenic, or single-gene, cardiovascular diseases which can be passed on within families, including hypertrophic cardiomyopathy and long QT syndrome. There are currently 42 clinically treatable, secondary variant genes that increase the risk for sudden cardiac death, heart failure, and other types of CVD.
The statement provides a framework to support healthcare professionals in appropriately assessing individual genetic variants, communicating findings with patients and families, and creating a strong multidisciplinary team to care for people with CVD risk-associated gene variants.
Pretest genetic counseling can help prepare patients for the possibility of incidental findings, how and whether findings will be communicated, and potential implications for themselves and family members.
According to the scientific statement, once a variant is classified as either benign, uncertain, or pathogenic, the following activities should occur:
Healthcare professionals should only relay information about gene variants known to be associated with CVD if patients agreed during pretest counseling to be informed about incidental findings.
Gene variants with uncertain CVD associations should not be reported.
If the variant may increase CVD risk, a medical evaluation could help determine whether warning signs exist in the family history, and whether the individual shows evidence of the disease, such as symptoms or test results.
The genetic variant should be re-evaluated periodically. As knowledge about variants evolves, their links to disease may be reclassified.
The medical evaluation should guide next steps, which may range from dismissing the incidental variant as unlikely to cause CVD, to beginning medical interventions. Other steps may include periodic re-evaluation and screening family members for the variant.
This scientific statement was prepared by a volunteer writing group on behalf of the American Heart Association's Data Science and Precision Medicine Committee of the Council on Genomic and Precision Medicine and the Council on Clinical Cardiology; the Council on Cardiovascular and Stroke Nursing; the Council on Hypertension; the Council on Lifelong Congenital Heart Disease and Heart Health in the Young: Council on Peripheral Vascular Disease; and the Stroke Council.