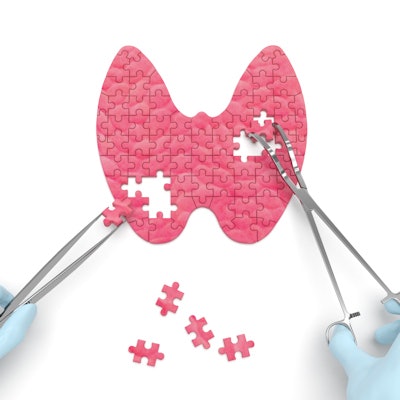 A new thyroid cancer test that uses mass spectrometry imaging could help patients avoid unnecessary surgery, according to a study published on October 7 in the journal Proceedings of the National Academy of Sciences.
A group of researchers from the University of Texas at Austin (UT Austin) and other institutions developed a new preoperative metabolic test for thyroid cancer that is faster and more accurate than current diagnostic tests, according to a statement released by the university. The technique uses mass spectrometry imaging to identify metabolites produced by cancer cells.
The study included 68 patients, of whom almost a third had received inconclusive fine-needle aspiration (FNA) results. The new metabolic thyroid test could have prevented 17 of these patients from undergoing unnecessary surgery, concluded co-principal investigators Dr. James Suliburk from Baylor College of Medicine and Robert Tibshirani, PhD, from Stanford University and colleagues.
"If we could prevent people from having surgery they don't need and enable them to have a more precise diagnosis, we can improve treatment for patients and lower costs for the healthcare system," added Livia Eberlin, PhD, from UT Austin, also a co-principal investigator, in the statement.
The researchers plan to conduct a two-year validation study of the technology using FNA results from patients in the U.S., Brazil, and Australia.