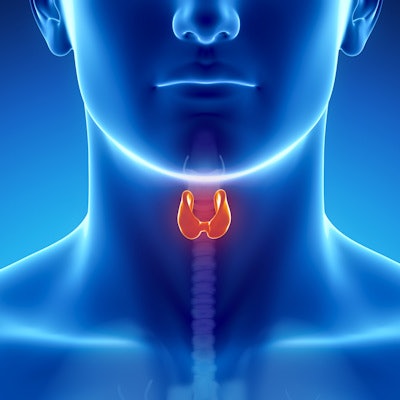 Sonic Healthcare is highlighting clinical results presented at the American Association of Clinical Endocrinologists (AACE) meeting on April 27 in Los Angeles from the use of its ThyroSeq molecular test for detecting cancer in suspicious thyroid nodules.
ThyroSeq can help avoid diagnostic surgeries for suspected thyroid cancer by distinguishing between benign and cancerous nodules, according to the company. ThyroSeq testing has been expanded into cytology smears, which may be the only specimens available when a dedicated sample is not collected for molecular testing. With ThyroSeq, patients with indeterminate cytology won't have to make another visit to a physician's office to have another sample taken; instead, the available smears can be sent for testing.
At AACE 2019, researchers from the University of Pittsburgh presented their work in assessing ThyroSeq's performance in routinely prepared Diff-Quik and Papanicolaou-stained cytology smears. Adequate DNA results for mutations and copy number alterations were obtained in 93% of nodules and RNA results for gene fusions and gene expression in 79% of nodules.
What's more, ThyroSeq's performance was assessed in reference cytology slides included in a worldwide study on quantitative cytological molecular reference specimens. ThyroSeq showed accurate detection of all mutations down to 3% to 5% of allele frequency.
ThyroSeq is sold commercially by CBLPath, a subsidiary of Sonic Healthcare.