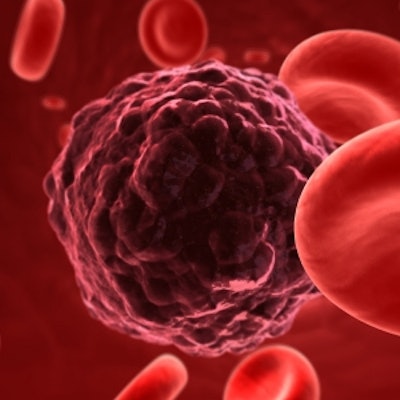 Progress continues to be made in the fight against cancer, with death rates dropping for both men and women, according to a new report published May 30 in the Journal of the National Cancer Institute. But cancer incidence is much higher in younger women than in men, largely due to breast cancer.
For all ages, cancer mortality fell 1.8% annually among men and was down 1.4% annually among women. Cancer incidence was slightly higher in men than in women of all ages, with an incidence of 494.3 cancers per 100,000 men versus an incidence of 420.5 cancers per 100,000 women.
But the picture was markedly different for adults between ages 20 and 49, with cancer incidence sharply higher in women -- in large measure due to breast cancer. For the period 2012 to 2016, death rates from cancer fell 2.3% annually for men and 1.7% annually for women. While progress was made in reducing cancer incidence among men, incidence rates actually rose in women. From 2011 to 2015, men ages 20 to 49 saw incidence fall 0.7%, while women saw incidence rise 1.3%.
What's more, younger women experience a much higher burden of cancer incidence than men in the 20 to 49 age group. Men had a cancer incidence of 115.3 cancers per 100,000 individuals from 2011 to 2015, compared with an incidence of 203.3 cancers in women. The death rate for women was higher as well; from 2012 to 2016 the cancer death rate was 22.8 cancers per 100,000 people among men but was 27.1 among women.
The disparity between younger men and women is largely being driven by the high incidence of breast cancer among women ages 20 to 49, at 73.2 cancers per 100,000 people. Rates of thyroid cancer in women at 28.4 cases per 100,000 individuals and melanoma of the skin at 14.1 cases also drove cancer incidence higher among women.
By contrast, the most common cancers among men in the 20 to 49 age group were colon and rectum at 13.1 cases per 100,000 people, testicular cancer at an incidence of 10.7 cases, and melanoma of the skin at 9.8 cases.
Changes in U.S. cancer incidence and mortality
All ages, men
All ages, women
Ages 20-49, men
Ages 20-49, women
Cancer incidence per 100,000 individuals
494.3
420.5
115.3
203.3
Cancer mortality change
-1.8%
-1.4%
-0.7%
1.3%
"The greater cancer burden among women than men ages 20 to 49 was a striking finding of this study," said Elizabeth Ward, PhD, lead author of the study and a consultant at North American Association of Central Cancer Registries (NAACCR). "The high burden of breast cancer relative to other cancers in this age group reinforces the importance of research on prevention, early detection, and treatment of breast cancer in younger women."
The authors also reported "substantial" incidence rates of in situ breast cancer and nonmalignant central nervous system tumors among men and women in the 20 to 49 age group. In addition, some of the most frequent malignant and nonmalignant tumors in this age group "may be associated with considerable long-term and late effects related to the disease or its treatment." They believe this indicates that access to timely and high-quality treatment and survivorship care is key to improving outcomes and quality of life for younger adults.
The report, entitled "Annual Report to the Nation on the Status of Cancer," was a collaborative effort between the U.S. National Cancer Institute (NCI), the U.S. Centers for Disease Control and Prevention (CDC), the American Cancer Society (ACS), and the NAACR.