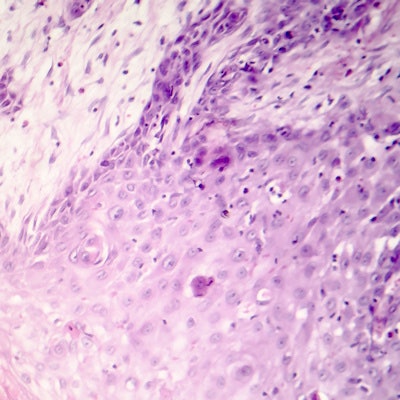 Castle Biosciences is moving forward with the development of a prognostic gene expression profiling test for cutaneous squamous cell carcinoma (cSCC). Researchers presented positive preliminary results in an oral presentation at the American College of Mohs Surgery (ACMS) annual meeting held May 2-5 in Baltimore.
In a study of data drawn from patients at 18 centers, researchers identified a preliminary set of genes and developed a predictive algorithm associated with significantly higher risk for the recurrence of cSCC, a nonmelanoma type of skin cancer. The positive predictive value of the prognostic test was 60%, a result the company said compares well with current staging methods.
Castle said it has now initiated an expanded validation program for the test based on the preliminary results. The expanded program includes a prospective validation study as well as archival studies.
According to the Skin Cancer Foundation, about 1 million people are diagnosed with cSCC every year in the U.S. and 15,000 die from it. Castle noted that of those diagnosed every year, 200,000 have high-risk features, and the company is developing the test as a means of identifying those in subsets with a high risk of disease recurrence.
In a poster presentation at the same meeting, the company reported that its DecisionDx-Melanoma gene expression profiling test was effective for predicting recurrence and metastasis in patients with stage I-III melanoma in a meta-analysis of studies including 1,479 patients. The company also markets products for uveal melanoma.