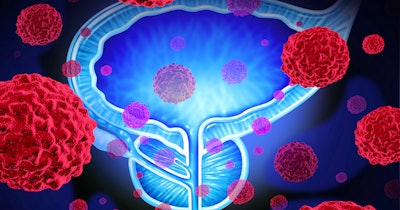 Men aged 70 and older who are asymptomatic should not opt for routine prostate-specific antigen testing for prostate cancer, according to medical testing guidelines.
Nonetheless, the procedure is highly prevalent among the beneficiaries of an insurance program called Medicare Advantage, and it is associated "with substantial amounts of potentially avoidable care," according to a study published on Tuesday in JAMA Network Open.
Conducted by researchers at Tufts Medical Center in Boston and the University of Michigan in Ann Arbor, MI, the study found that from 2016 to 2018, total spending increased when it was associated with care cascades -- follow-up testing or treatment after an unclear or abnormal finding from prior service.
Furthermore, "the increased use of the low-value PSA cancer screening exacerbated the avoidable wasteful spending," the authors wrote.
Medicare Advantage plans are offered by Medicare-approved private companies. Care cascades can include a range of testing and procedures from simple to complex, with each involving potential benefits and harms, the researchers noted.
The study found that "for every $1 spent on a low-value PSA cancer screening, an additional $6 was spent on the associated care cascade," the authors noted. "When extrapolating our findings to … low-value PSA cancer screening costing $46.5 million in the traditional Medicare population, the care cascades of low-value PSA cancer screening alone could amount to more than $275 million."
Routine PSA testing among asymptomatic men aged 70 years and older is discouraged by many guidelines. For example, the American Urological Association and the American College of Physicians do not recommend routine PSA screening in men aged 70 years or older or in any man with less than a 10- to 15-year life expectancy.
"PSA screening for men aged 70 years and older could lead to greater harms from false-positive results for cancers, invasive diagnostic biopsy, and treatment related to overdiagnosis and overtreatment, including more costly procedures, such as biopsy, imaging, and prostatectomy," the authors noted, adding that "to our knowledge, potentially avoidable subsequent utilization and costs of health services associated with the initial low-value PSA cancer screening have not been examined."
This cross-sectional study included men aged 70 years and older without preexisting prostate conditions enrolled in a Medicare Advantage plan from January 2016 to December 2018 with at least one outpatient visit. The investigators leveraged medical billing claims data from the deidentified OptumLabs Data Warehouse and conduced data analysis September 2020 to August 2021.
Of 995,442 men aged 70 years or older in the study, 384,058 had received a PSA cancer screening.
Utilization increased for each subsequent cohort from 2016 to 2018. Among those receiving initial low-value PSA cancer screening, 241,188 of 384,058 received at least one follow-up service. "Repeated PSA testing was the most common, and 27,268 incurred high-cost follow-up services, such as imaging, radiation therapy, and prostatectomy," the researchers said.
Among its limitations, the study relied on the multiple guidelines' recommendations to define a low-value PSA test for prostate cancer screening among men aged 70 years or older. "Some PSA screening and downstream services in this population could be deemed necessary and not be considered low-value," the researchers said. "Claims data do not provide sufficient clinical context and nuance to determine the necessity of the services provided, such as symptoms individuals are experiencing, results from testing, and why clinicians ordered particular services."
Still, the estimates of wasteful spending are likely conservative, the authors said. They captured procedure costs only, and excluded additional costs for the office visit, facility, and physician fees for surgical procedures.