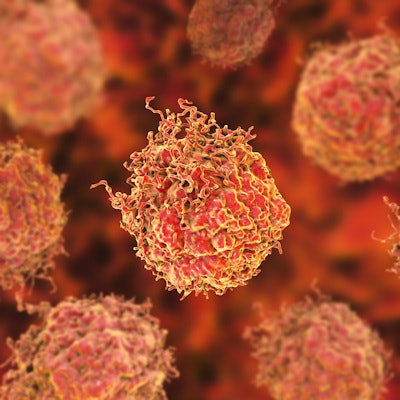 An investigational artificial intelligence (AI) system demonstrated excellent performance for differentiating benign from cancerous findings in prostate biopsies and held its own with urological pathologist experts for gauging disease severity, researchers reported online January 8 in Lancet Oncology. The technology could be helpful for alleviating pathologist shortages around the world, they suggested.
The AI study, which was funded by Swedish research organizations, tested a system that was trained through digitized images from men who had been enrolled in the large, prospective, population-based Stockholm 3 (STHLM3) diagnostic study, as well as samples from other sources. The men in STHLM3 had undergone standard systematic prostate biopsies, including 10 or 12 needle cores.
"This dataset represents a broad spectrum of malignant morphologies of prostatic tissue encountered in clinical practice," Martin Eklund, PhD, an associate professor in medical epidemiology and biostatistics at the Karolinska Institutet in Sweden, and colleagues wrote.
The researchers tested the system using samples from the STHLM3 study and from external labs, as well as through comparison with evaluations by highly skilled urological pathologists. They looked at performance for cancer detection, localization, and Gleason grading.
"An AI system can be trained to detect and grade cancer in prostate needle biopsy samples at a ranking comparable to that of international experts in prostate pathology," Eklund et al reported. "Clinical application could reduce pathology workload by reducing the assessment of benign biopsies and by automating the task of measuring cancer length in positive biopsy cores."
Pathologist workforce gaps
The study was conducted in recognition of the challenges in detecting and grading prostate cancer, as well as in light of pathologist workforce shortages. With an aging population, more prostate biopsies are being performed, and 10 to 12 needle cores are taken per patient. For the U.S., with more than 1 million men undergoing biopsy, that amounts to more than 10 million tissue samples that need to be evaluated by pathologists, the authors noted. Intraobserver and interobserver variability differences are problematic when it comes to grading prostate cancer.
"Gleason grade is a strong prognostic factor for the survival of patients with prostate cancer and is crucial for treatment decisions," they wrote.
The volume of biopsies is rising amid a global shortage of pathologists; in Western countries, the supply of specialists is shrinking as pathologists retire, Eklund and colleagues explained.
"An increasing volume of prostate biopsies and a worldwide shortage of urological pathologists puts a strain on pathology departments," they noted. "Additionally, the high [intraobserver] and [interobserver] variability in grading can result in overtreatment and undertreatment of prostate cancer."
The study shows the potential for AI in a range of capacities to decrease the workload of pathologists, including for prescreening cases, assessing benign biopsies, and automating measurements of tumor burden, the authors suggested.
"An AI system with expert-level grading performance might contribute a second opinion, aid in [standardizing] grading, and provide pathology expertise in parts of the world where it does not exist," they wrote.
More research is needed before the system is validated and ready for prime time. It is now being evaluated in a multicenter training study in nine European countries, with results expected this year. Additionally, a randomized study evaluating real-world application in Sweden is slated to begin this year.