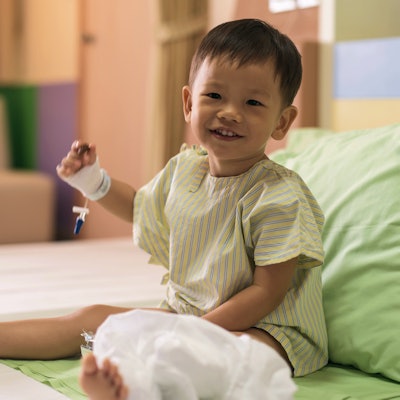 In a large molecular screening study sponsored by the U.S. National Cancer Institute (NCI), 24% of pediatric cancer patients were matched with targeted therapies based on genetic profiles from tumor samples, a better than expected result, investigators reported during an American Society of Clinical Oncology (ASCO) press briefing on May 15.
Out of 422 children, adolescents, and young adults (up to the age of 21) with relapsed/refractory cancers enrolled in the NCI-Children's Oncology Group Pediatric Molecular Analysis for Therapy Choice (NCI-COG Pediatric MATCH) study, tumor samples were taken for 390, or 92%. Of those who had their tumors sequenced, 24% were eligible for treatment with a targeted therapy available through the study, and 10% had been enrolled in a trial as of the end of 2018, the investigators reported in an interim analysis ahead of the ASCO meeting, which is scheduled to be held from May 31 through June 4 in Chicago.
The study is matching patients to drugs that are commercially available as well as investigational drugs in phase II trials, including olaparib (Lynparza, AstraZeneca), the BRAF inhibitor vemurafenib (Zelboraf, Roche), and the FGFR-targeted erdafitinib (Balversa, Johnson & Johnson).
"Hopefully, we can effectively study these agents and identify signals of activity where some of these drugs may work for our patients," COG study chair Dr. Will Parsons, PhD, noted during the ASCO press briefing, which showcased five meeting presentations.
Up and running since 2017, the Pediatric MATCH study is being done in recognition of the lack of approved targeted therapies for cancers in young patients, and the need for more research into personalized treatments. Molecular testing is now performed more commonly for pediatric cancers, and the study shows it's feasible to manage a large, geographically diverse screening network, as patients were recruited from 100 different centers across the country, said Parsons, who is an associate professor of pediatrics-oncology at Baylor College of Medicine.
Investigators used DNA and RNA sequencing to test tumor samples for 160 genetic alterations. In the cohort presented on May 15, there were 60 different diagnoses -- 24% of the patients had brain tumors, 71% had other solid tumors, and 5% had lymphomas or histiocytic cancers.
Molecular screening is proving useful for matching patients in the study across cancer types, including rare and common tumors, Parsons reported. In those with astrocytomas, targetable alterations were identified for 10 different types of the disease. The researchers aimed to enroll 200 to 300 children per year in the study and have achieved this target. They plan to recruit a total of 1,000 patients and are sequencing blood samples along with testing tumor specimens.
The ASCO press briefing also highlighted data from a phase I study performed at St. Jude Children's Research Hospital. The study showed a response to Roche's drug entrectinib, which targets NTRK1/2/3, ROS1, and ALK pathways, in 12 out of 28 evaluable pediatric patients with central nervous system tumors and recurrent solid tumors. The median age in the study -- known as STARTRK-NG, or Studies of Tumor Alterations Responsive to Targeting Receptor Kinases - Next Generation -- was seven years. All of the patients who responded had the genetic alterations targeted by the drug, the researchers reported.
Drugs tested in NCI-COG Pediatric MATCH study
Drug
Target
larotrectinib (Vitravki, Bayer)
NTRK
erdafitinib (Balversa, Johnson & Johnson)
FGFR
tazemetostat (Epizyme)
EZH2 and other SWI/SNF complex genes
LY3023414 (Lilly)
PI3K/MTOR
ensartinib (Xcovery)
ALK or ROS1
selumetinib (Array BioPharma)
MAPK
vemurafenib (Zelboraf, Roche)
BRAF
olaparib (Lynparza, AstraZeneca)
defects in DNA damage repair
palbociclib (Ibrance, Pfizer)
cell cycle genes
ulixertinib (BioMed Valley Discoveries)
MAPK