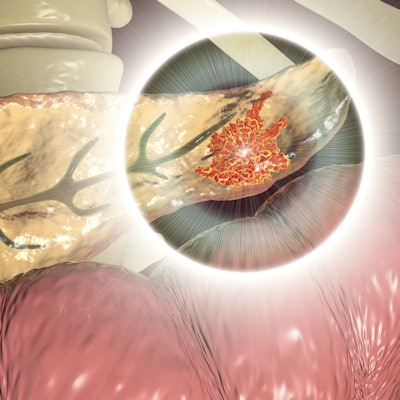 Researchers created a model utilizing artificial intelligence (AI) that identified patients at an increased risk for pancreatic cancer who could benefit from early screening with a blood test. They presented their findings from a pilot study using the model on July 2 at the virtual European Society for Medical Oncology (ESMO) World Congress on Gastrointestinal Cancer.
The researchers matched 1,378 patients in the U.K. who developed pancreatic cancer with four people of the same age and sex who developed another type of cancer. They then created a model to predict an individual's cancer risk using the patients' electronic health records data from general physician appointments. The data included the patients' symptoms, diseases, and medications up to two years before their cancer diagnosis.
The model accurately predicted which patients under the age of 60 were at a higher risk of developing pancreatic cancer up to 20 months before diagnosis. Based on the findings, one life could be saved for every 1,500 blood tests conducted, the researchers reported.
While the ratio of tests to lives saved is not small enough to be clinically viable just yet, study author Dr. Ananya Malhotra was optimistic the researchers are on the right track.
"It shows that AI holds potential to narrow down the number of people we need to screen," stated Malhotra, a research fellow in statistics at the London School of Hygiene and Tropical Medicine. "We should be able to reduce this quite a lot further by matching pancreatic cancer patients to controls from the general population, which is what we plan to do next."