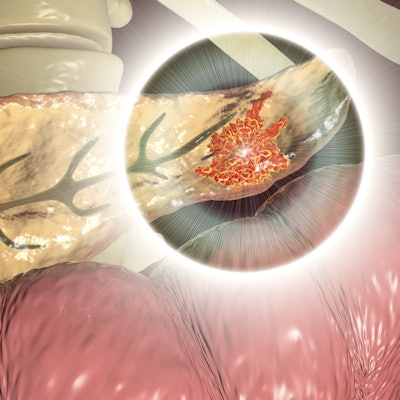 With momentum growing for germline testing of all patients newly diagnosed with pancreatic cancer, experts published a road map in JAMA Oncology on February 13 outlining what particular variants should be considered and included in screening.
The National Comprehensive Cancer Network recently recommended germline testing for all people newly diagnosed with pancreatic ductal adenocarcinoma (PDAC). Also, the American Society of Clinical Oncology has issued a clinical opinion advising risk assessment and consideration of germline testing for all patients newly diagnosed, Dr. Eileen O'Reilly, an oncologist at Memorial Sloan Kettering Cancer Center, and colleagues observed. But opinions on what, exactly, to test for have been divided, and guidance has been lacking, they suggested in JAMA Oncology.
Knowledge of the genetic profile is becoming more important with the introduction of new treatment options for pancreatic cancer. The literature suggests that pathogenic germline mutations have been identified in 3.8% to 9.7% of PDAC cases.
"Potential targets need to be actively sought and identified," the authors wrote.
O'Reilly and colleagues reviewed the evidence supporting germline testing and presented an algorithm for managing patients that starts with taking a detailed personal and family history of cancer and includes genetic counseling. Regardless of the risk profile, the core genes to test for in an initial screening include BRCA1, BRCA2, and PALB2; rare but important genes such as STK11 should be added if needed based on clinical features (see table), the authors advised.
Paradigm for germline panel testing in newly diagnosed pancreatic adenocarcinoma
Minimum gene testing
BRCA1, BRCA2, PALB2, ATM, MLHI, MSH2, MSH6, EPCAM, CDKN2A, TP53
Genes to consider based on clinical features
APC, BMPR1A, STK11, PRSS1, SPINK1
Under investigation, limited data
BAP1, BARD1, BRIP1, BLM, CHEK2, CDK4, FAM175A, FANCA, FANCC, FANCD, FANCE, FANCF, MRE11A, NBN, PMS2, RAD51C, RAD51D
Source: O'Reilly et al,
JAMA Oncology
.
Those with BRCA1/2 mutations may respond better to platinum-based chemotherapy and targeted poly (ADP-ribose) polymerase (PARP) inhibitors, such as Merck/AstraZeneca's olaparib (Lynparza). Meanwhile, checkpoint immunotherapies are being used in cases with mismatch repair mutations, and high response rates have been reported, they noted.
Historically, single-gene testing was conducted, but multigene panels have come into use, including the following commercial hereditary tests cited by the authors:
Ambry Genetics, PancNext
Blueprint Genetics, Hereditary Pancreatic Cancer Panel
Invitae, Pancreatic Cancer Panel
GeneDx, Pancreatic Cancer Panel
Fulgent Genetics, Pancreatic Cancer Comprehensive Panel
Myriad Genetics, myRisk Hereditary Cancer
Color, Hereditary Cancer Test
Quest Diagnostics, various tests
Increasingly, the precision medicine approach will be an option for patients with pancreatic cancer, which the authors noted is associated with a 9% survival rate at five years. Pancreatic cancer is also the third most common cause of cancer-related mortality in the U.S.
Traditionally, the testing process began with a genetic counselor. However, Memorial Sloan Kettering has introduced genetic testing upfront in oncology at the time of diagnosis, with genetic counseling following the communication of results by the patient's medical team.
"As demand for genetic counselors outpaces the supply, new educational modalities are being explored, including group educational discussions, videoconferencing, and telephone encounters," the authors wrote. "Also, collaboration with other healthcare clinicians and peer-to-peer consultation for complex genetic questions has been seen as a vital tool in providing effective genetic counseling."