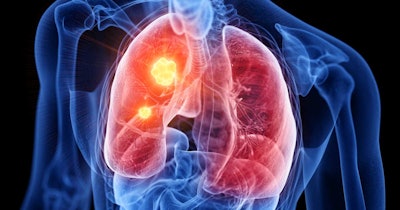 Agilent Technologies announced Monday that its Agilent Resolution ctDx First has received U.S. Food and Drug Administration (FDA) approval for use as a companion diagnostic (CDx) in identifying advanced non-small cell lung cancer (NSCLC) patients with KRAS G12C mutations who may benefit from treatment with Mirati Therapeutics' Krazati (adagrasib).
Resolution ctDx First is a liquid biopsy next-generation sequencing (NGS) assay; it has also been approved by the FDA for tumor profiling of the epidermal growth factor receptor (EGFR) gene in patients with NSCLC.
Approximately 13% to 14% of NSCLC patients harbor a KRAS G12C mutation, and approximately 32% of NSCLC patients have a mutation within their EGFR gene. The Resolution ctDx First is a minimally invasive assay that can be helpful for informing treatment decisions in these patients.
The Resolution ctDx First test report includes CLIA-validated broad genomic profiling on 109 genes across four types of alterations: single nucleotide variants (SNVs), insertions and deletions (indels), copy number amplifications (CNAs), and fusions.
Along with Agilent's liquid biopsy NGS assay Resolution ctDx First, the FDA has also approved Qiagen's tissue-based polymerase chain reaction (PCR) assay Therascreen KRAS this week as a CDx for identifying NSCLC patients likely to respond to treatment with Krazati. The approval of these CDx tests increases options for the underserved NSCLC patient community with KRAS G12C mutations.