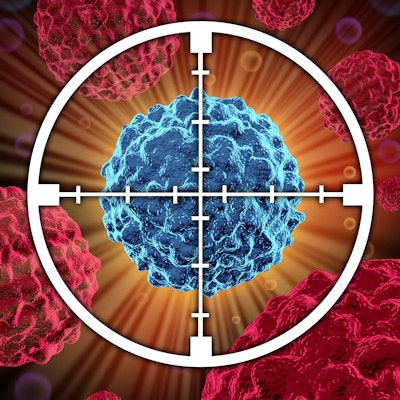 Circulating tumor DNA (ctDNA) tests are practical for genomic profiling of tumors and guiding cancer patients to early-stage clinical trials of targeted therapies accordingly, a U.K. study published April 22 in Nature Medicine has found.
In an ideal world, all cancer patients would get a personalized treatment regimen based on the molecular profile of their particular tumor. But tissue biopsies are invasive, and results may become outdated over time as cancers evolve.
Blood testing is potentially easier and faster as a means of directing patients to targeted therapy and is in the process of being validated.
Investigators in the Tumour Characterisation to Guide Experimental Targeted Therapy (TARGET) study found that ctDNA testing is feasible and complementary to archived tumor tissue samples for directing patients to clinical trials based on their particular mutations.
The TARGET study was funded by Cancer Research UK, the Christie Charitable Fund, the National Institute for Health Research (NIHR) Manchester Biomedical Research Centre, and AstraZeneca. The trial is being run through the government- and foundation-funded Experimental Cancer Medicine Centres (ECMC) network in Manchester.
Results from the first part of the study showing the feasibility of testing and targeting treatment based on ctDNA -- parts of DNA released by dying tumor cells -- were published by Dr. Dominic Rothwell of the Cancer Research UK Manchester Institute and colleagues in Nature Medicine.
Currently, this technology is not routinely being used to direct patients to phase I trials, the authors noted.
Robust workflow at the right price
The first part of TARGET included 100 patients with 22 different types of solid tumors, the most common of which were colorectal cancer, breast cancer, and non-small cell lung cancer. Participants had received a mean of two prior therapies.
The main goal of the study was to develop a robust workflow supporting clinical decision-making that may be delivered on a routine basis at an affordable cost -- that is, at about 1,600 pounds ($2,077 U.S.) per patient, according to the researchers.
They performed next-generation sequencing of ctDNA samples (SureSelect assay, Agilent Technologies), which they noted targets 641 genes recurrently mutated in 77 cancers. To improve the efficiency of the process, they developed an in-house portal called eTARGET, a digital system for uploading, storing, and integrating data with electronic patient records.
Blood samples were collected, processed, and analyzed for all 100 patients. The researchers stressed that efficient turnaround of results is critical and that in this study, the mean time from a blood draw to a report was 33 calendar days, which is comparable to how long it takes to assess tumor biopsy tissue.
Using a 2.5% variant allele frequency (VAF) threshold, Rothwell and colleagues identified actionable mutations in 41 out of 100 patients and were able to match 11 with clinical trials. Of these 11, four had a partial response after treatment in a study and seven had stable disease for a minimum of three months.
Another 17 patients went on to receive a nonmatched therapy. No responses were reported in these patients and four had stable disease.
As for the rest of the patients who had actionable mutations, in some cases there was no trial available, and the condition of other patients deteriorated to the point where they could not be treated.
The researchers compared ctDNA results with analyses of tumor tissue and found good concordance, with 54 of 69 mutations (78.6%) detected in liquid biopsies also seen in tumor samples.
"This level of concordance, even accounting for differences between gene panels and levels of sensitivity between the [tumor] and ctDNA assays compares favorably with other recently described studies," the group wrote.
In one patient with a lung adenocarcinoma, an NRAS mutation was identified on the ctDNA test and also in the archival tumor sample.
The patient went on to receive treatment with an MEK inhibitor in a clinical trial and had a partial response, with a 60% reduction in marker lesions, and disease was controlled for a year, the authors reported.
"This is the first NRAS-positive [non-small cell lung cancer] patient reported, as far as we are aware, to demonstrate radiological and clinical response to single-agent MEK inhibition in keeping with preclinical data that strongly support this approach," they wrote.
In some cases, discordance of results was related to the effects of treatment given after a tissue biopsy was assessed. For example, a KRAS mutation was identified in the ctDNA test of a colorectal cancer patient but not in the tumor tissue test. This mutation likely emerged as a resistance mechanism due to treatment with an epidermal growth factor receptor (EGFR) inhibitor.
The authors believe the testing would be most useful in patients with particular cancers, based on the frequency of mutations. Mutations were commonly identified in breast cancer and small cell lung cancer, for example, but none were found in patients with adrenal cancer. However, they cautioned that "these data are based on limited patient numbers" and could be confounded by differences in tumor volume.
"These data support the application of ctDNA in this early phase trial setting where broad genomic profiling of contemporaneous [tumor] material enhances patient stratification to novel therapies and provides a practical template for bringing routinely applied blood-based analyses to the clinic," they concluded.
2nd phase of TARGET ongoing
Now that they have demonstrated the feasibility of performing ctDNA testing, the TARGET researchers are examining a larger cohort of patients in the second part of the study, which started in early 2017, with the aim of recruiting another 450 patients.
The plan is to assess how outcomes, including overall response rates, differ for those who are matched to clinical trials based on their genomic profiles versus those who are not matched.
The researchers are also aiming to cut turnaround time from 30 days to 15 to 20 calendar days.
"Our experience on the TARGET study encourages routine implementation of ctDNA testing as an adjunct to [tumor] testing," the authors wrote. "We suggest that with increased experience and ongoing development of more sensitive ctDNA assays, such as incorporation of Unique Molecular Identifiers or other emergent methodologies, it may be possible to assign certain cancer patients to blood-based testing."