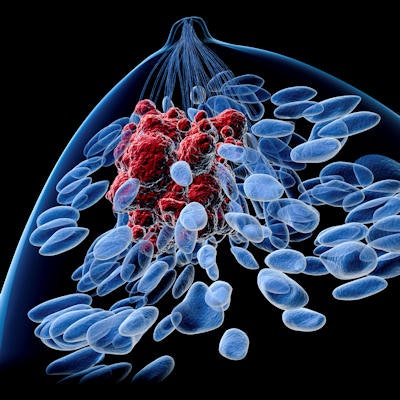 Molecular diagnostics developer Prelude presented data at the American Society for Radiation Oncology (ASTRO) 2020 annual meeting showing that its DCISionRT test can reclassify breast cancer risk in women.
The study included nearly 1,800 women diagnosed with ductal carcinoma in situ (DCIS) and classified as low risk by radiation oncology/toxicity grading-like criteria for recurrence of DCIS or progression to invasive breast cancer. The DCISionRT assay reclassified almost half of these patients to elevated risk, which suggests numerous patients would have been undertreated with surgery alone.
The data also suggest both patient age and tumor grade failed to sufficiently risk-stratify patients. DCISionRT's decision score for women younger than 50 classified 48% of the women to be at very low and 52% to be at very high biological risk of DCIS recurrence or progression to invasive breast cancer over 10 years. The finding differs from the common expectation that the majority of women younger than 50 are at high risk and should therefore undergo radiation after surgery.
The researchers also found almost half (48%) of women with a low to intermediate tumor grade were reclassified as elevated risk by the assay for DCIS recurrence or progression to invasive breast cancer, which also makes tumor grade an inadequate independent risk indicator, the firm said.
In another ASTRO poster, Prelude showed that the company's biosignature technology identifies which women diagnosed with stage I or II invasive breast cancer are most likely to have excellent versus poor outcomes after breast-conserving surgery and radiation.