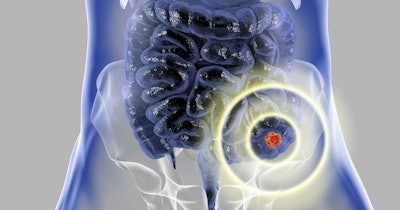 Precision diagnostics company Oncocyte on Friday announced the publication of results from the randomized phase II AtezoTRIBE clinical trial for metastatic colorectal cancer (mCRC), which used the company's DetermaIO gene-expression test.
The results, published in Clinical Cancer Research, show that DetermaIO, which assesses the tumor microenvironment to predict response to immune checkpoint inhibitor (ICI) treatment, identified more patients who were potentially responsive to ICI treatment than current biomarkers.
In the overall study population of 122 patients, those mCRC patients who tested positive with DetermaIO achieved better progression-free survival outcomes from the addition of atezolizumab than DetermaIO-negative patients. Additionally, the 69 patients in the study group with proficient mismatch repair (pMMR) tumors who were treated with ICIs in addition to chemotherapy who had very high DetermaIO positives had significantly improved progression-free survival outcomes.
"The gene expression profiling through the DetermaIO of mCRC would mark a fundamental paradigm shift in the characterization of tumor immune microenvironment of mCRC, by providing the opportunity to identify an immune-enriched tumor microenvironment among pMMR tumors that do not currently qualify for ICI therapy," the authors note in the article.