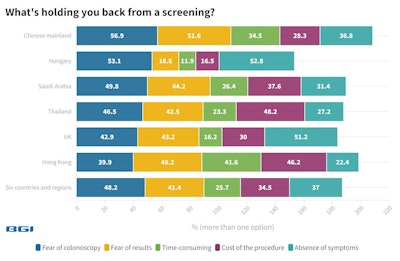 Shenzhen, China-based BGI Genomics on Friday released its State of Colorectal Cancer Awareness Report, a global survey on public awareness of and attitudes toward screening for colorectal cancer (CRC).
The responses highlight the need for more information about testing and greater access to affordable testing, and the critical role doctors play in offering information to patients in the need for screening for CRC, the third most common cancer worldwide. The release of the survey coincides with World Health Day, targeted at addressing current and upcoming global health challenges.
To provide a cross-section of global responses, 1,817 respondents from six countries and from different world regions were surveyed: the U.K. (Western Europe), Hungary (Eastern Europe), Saudi Arabia (Middle East and Africa), Thailand (Southeast Asia), the Chinese mainland, and Hong Kong (Northern Asia).
While 51.5% of those surveyed reported that they had insufficient information about CRC and 34.5% cited expense as a reason for not getting screened for CRC, 88.8% reported being more willing to go for screening after learning that there is a 90% five-year survival rate with early detection of CRC.
The survey highlighted the critical role that doctors play in patients' decisions about CRC screening; 62.5% said they would follow their doctor's recommendation to undergo CRC screening in the absence of symptoms. In a statement, BGI recommended that doctors be made more aware of CRC symptoms, ask the right questions to identify potential hereditary risks, and offer patients a range of screening options. While 68.2% of respondents were familiar with colonoscopy as a screening tool, only 49.5% knew of the much less expensive, less invasive, and more convenient fecal testing.
"Early CRC detection offers the best outcome for individuals and healthcare policy. The treatment cost of late-stage CRC is sometimes more than ten times higher relative to early-stage CRC but with far lower survival rates," said Yantao Li, PhD, BGI Genomics director of the Colorectal Cancer Screening Programme, South-East Asia.