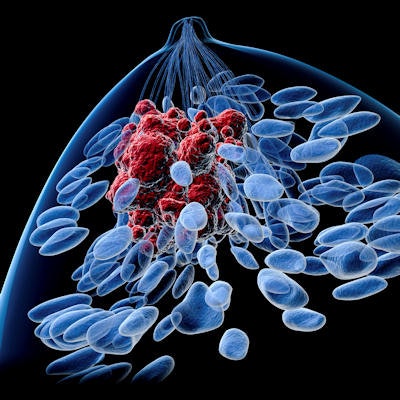 Case Western Reserve University researchers have used artificial intelligence (AI) to identify a new prognostic biomarker for breast cancer. Their findings were published August 6 in npj Breast Cancer.
The biomarker, specifically collagen, is identified in tissue biopsy samples from women with early-stage breast cancer and can predict if cancer will return after treatment. A team led by doctoral student Haojia Li digitized images of tissue sample slides and discovered that "a well-ordered arrangement of collagen" predicts an aggressive tumor and disease recurrence while "disordered" or "broken-down" collagen predicts better outcomes.
"One way to understand it is to say that if the collagen 'highway' is in terrible shape, it's more difficult for the tumor to migrate, but if it's smooth and organized, it makes it easier for the tumor to hitch a ride," said corresponding author Anant Madabhushi, PhD, in a statement released by the university.
The study findings could help clinicians better treat breast cancer patients, according to Li.
"Our method would make predicting outcomes much more available to more doctors and in hospitals which don't have the resources to have an advanced imaging microscope," Li said. "That's why this is so exciting -- because it can give the physician the information he or she needs to guide how aggressively to treat the cancer."