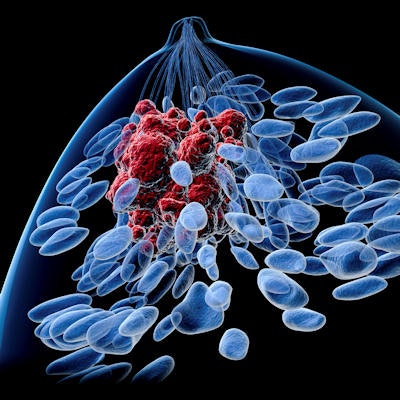 The overall survival of patients with metastatic breast cancer was associated with early circulating tumor cells (CTCs) that are shed in the bloodstream, according to an analysis presented at the 2020 San Antonio Breast Cancer Symposium held December 8-11.
The risk of death was 215% greater for those whose blood tested positive for CTCs at baseline and remained positive than others, according to the presentation.
Researchers analyzed blood test results to see if treatment response and prognosis could be detected earlier than with imaging, which requires about three months. They analyzed datasets from studies that included 4,079 patients with metastatic breast cancer and underwent baseline and follow-up CTC measurements using the CellSearch test from Menarini Silicon Biosystems. The median time from baseline to follow-up was 29 days.
Of the 2,961 patients who were CTC-positive at baseline, 1,855 remained CTC-positive after initiating treatment. The rest of the patients' levels converted to CTC-negative. Of the 1,118 patients who were CTC-negative at baseline, 813 remained negative and the remaining 305 had become CTC-positive, according to the findings.
Median overall survival was highest for patients whose CTC levels were negative at baseline and at 47 months, followed by those who were positive at baseline and negative at 32 months.
CTC dynamics can predict the trajectory of the disease a little more than four weeks after initiating treatment, according to the authors.