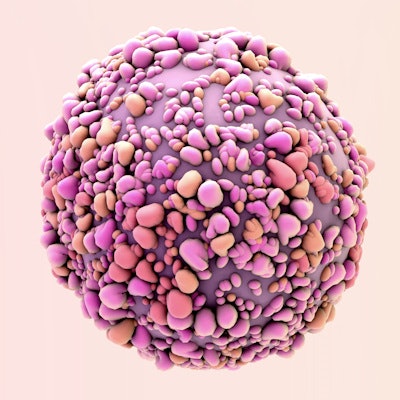 Myriad Genetics illustrated the wide difference in risk for breast cancer in women who carry CHEK2 mutations in a study presented at the American Society of Clinical Oncology (ASCO) meeting, held May 29 to 31.
The study involved multigene panel testing of 358,741 women with hereditary cancer risk for breast cancer, of whom 4,331 carried CHEK2 mutations. The CHEK2 subset was integrated into the company's polygenic risk score in combination with known risk factors; results were compared with an independent cohort of 459 women.
Spread of risk with CHEK2 mutations
Risk category for breast cancer, description
Percentage in category
Low risk (less than 20%)
24%
Moderate-to-high risk (20% to 50%)
62.6%
High risk (greater than 50%)
13.4%
This information allows more opportunities to personalize care of CHEK2 mutation carriers -- and move away from a one-size-fits-all approach, said Jerry Lanchbury, chief scientific officer at Myriad. The company plans to roll this testing out in the relatively near future as an enhancement of its riskScore testing product.
Mutations in the CHEK2 gene are among those associated with moderate risk that are of growing interest in breast cancer, beyond the known high-risk BRCA mutations. During a presentation at the ASCO meeting, researchers noted that almost 1% of individuals tested with a hereditary cancer panel are CHEK2 carriers. Carriers have a lifetime risk for breast cancer from 23% to 48% and U.S. National Comprehensive Cancer Network (NCCN) guidelines advise magnetic resonance imaging (MRI) screening with mammography when mutations associated with greater than 20% of risk are present.
CHEK2 mutations are common in the population, and management guidelines around moderate-risk genes have gained more acceptance in recent years, Dr. Thomas Slavin, senior vice president of medical affairs at Myriad Oncology, commented.
"As a community we are very comfortable that it definitely causes a predisposition to breast cancer," Slavin said. "It is being looked at in association with other cancers as well."
In breast cancer, a risk of over 50% might lead to a consideration of prophylactic mastectomy. The study was conducted in women with European ancestry and further research is needed for women of other ethnic backgrounds. Myriad's currently marketed riskScore test was developed based on research on women with European ancestry, and the company is planning to expand to other ethnic groups -- African American, Asian, Hispanic, and mixed ancestry.
Another study sponsored by Myriad and presented at the ASCO meeting evaluated risk assessment for various ethnicities using the established Tyrer-Cuzick clinical risk evaluation tool in more than 90,000 postmenopausal women with no personal breast cancer history taking part in the Women's Health Initiative (WHI) study. Researchers examined risk prediction and actual outcomes in the following categories: white, African American, Native American, Hispanic, and Asian. The Tyrer-Cuzick model was accurate for the ethnicities studied, but it slightly overestimated risk in Hispanic women, the researchers reported. Hispanic women appear to be more protected against breast cancer, possibly due to genetic factors that require more research.