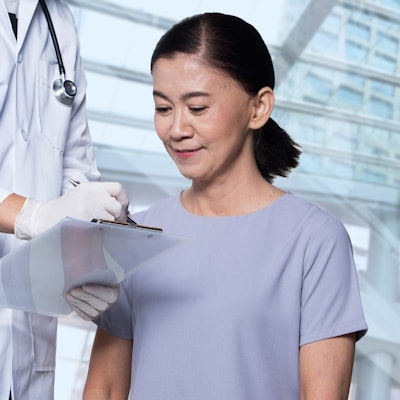 Scores for breast cancer patients on the Oncotype DX 21-gene risk test were significantly associated with local disease recurrence in a retrospective study published online January 6 in JAMA Oncology. The data suggest an expanded role for the test, though long-term, prospective validation data are needed to move it into practice.
With Oncotype DX, scores for recurrence risk in early-stage invasive breast cancer are based on the expression of 21 genes in biopsy tissues: 16 are related to cancer and five are for reference. The likelihood of recurrence is scored on a sale of 1 to 100, with low-, intermediate-, and high-risk thresholds.
The test has become well-established for assessing whether postmenopausal women with hormone receptor-positive, human epidermal growth factor receptor 2-negative, node-negative breast cancer need chemotherapy on top of estrogen therapy to avoid distant metastases. Its value in this setting was established in the prospective, landmark Trial Assigning Individualized Options for Treatment (TAILORx) of almost 10,000 patients newly diagnosed with breast cancer.
Another feather in the Oncotype DX cap
The new retrospective study suggests the test could also play a role in assessing estrogen receptor (ER)- or progesterone receptor (PR)-positive, node-positive breast cancer patients to see if they could benefit from radiation therapy to prevent locoregional recurrence. The results were reported by lead author Dr. Wendy Woodward, PhD, chief of the clinical breast radiotherapy service at MD Anderson Cancer Center, and colleagues.
The researchers evaluated records of 316 patients who had taken the Oncotype DX test as part of their participation in the Southwest Oncology Group S8814 (SWOG-8814) trial. That trial evaluated different treatments after surgery and outcomes in postmenopausal, ER- or PR-positive, node-positive women. The end point was the number of documented locoregional recurrences, and the median follow-up time was eight years. For this study, a low score was defined as less than 18 out of 100. Intermediate and high scores were combined and defined as a score of at least 18.
Of the 316 patients studied, 34 developed a local recurrence: 27 had intermediate or high scores on the risk prediction test and seven had low scores. The researchers concluded that a higher test score was an independent risk factor for local recurrence. Estimates for 10-year incidence rates suggest a significantly higher risk for local recurrence in those with a higher score versus a lower score (16.5% versus 9.7% recurrence rate), according to the group.
In an analysis that controlled for a range of key factors -- the type of treatment the women had been randomized to in SWOG-8814, the number of positive nodes, and the surgical type -- a higher risk score had prognostic value for local recurrence. The researchers also found a similar association between a higher risk score and local recurrence in a subset of patients who had undergone mastectomy and did not receive radiation therapy.
"These findings suggest that the recurrence score may provide valuable prognostic information on locoregional recurrence that may aid in decision-making about radiotherapy for postmenopausal women with breast cancer," Woodward and colleagues wrote.
Who needs radiation therapy?
The results shed light on an area where there is interest in using the recurrence score but not enough information to support its use. The researchers suggested that the current standard of care involving radiation therapy for breast cancer patients with four or more positive lymph nodes and any recurrence score is appropriate. But those with one to three positive nodes and low recurrence scores may not need radiation therapy and should consider enrolling in a clinical study, they added.
For example, the Canadian Cancer Trials Group, the U.S. National Cancer Institute, and other sponsors are running the randomized Regional Radiotherapy in Biomarker Low Risk Node Positive Breast Cancer (TAILOR RT) study in 2,148 breast cancer patients. According to the trial description, some women with node-positive breast cancer may be unnecessarily getting radiation therapy in their whole breast/chest area and surrounding lymph glands, on top of endocrine therapy and chemotherapy.
"These women may be exposed to the side effects of their treatment without benefit," the trial sponsors noted.
The primary end point in TAILOR RT is the breast cancer recurrence-free interval for radiation therapy versus no radiation therapy, and the primary completion date is September 2027.
"Until the [TAILOR RT] results are reported, the controversy will continue in the setting of patients with low nodal tumor burden and less aggressive tumor features," Woodward and colleagues wrote.