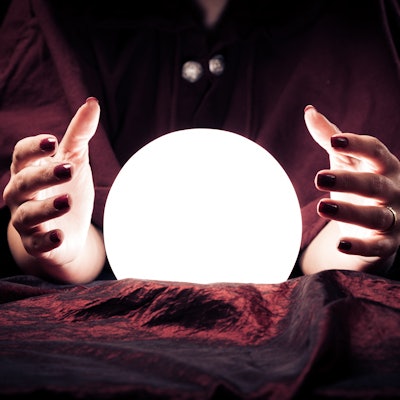 Myriad Genetics plans to offer more risk prediction information to women who carry mutations associated with breast cancer. Results from a validation study exploring the nature of high- and intermediate-risk pathogenic variants in women with European ancestry were presented on December 14 at the San Antonio Breast Cancer Symposium (SABCS).
The company currently offers hereditary cancer testing for women to determine their risk for breast cancer, with analysis/results based on mutation status. Those with high-risk or intermediate-risk mutations -- BRCA1, BRCA2, ATM, CHEK2, and PALB2 -- are notified that they are carriers. Those who do not test positive for genes with intermediate or high risk are given a polygenic risk score (PRS) for developing breast cancer based on testing for 86 single nucleotide polymorphisms (SNPs).
However, the company is now planning to integrate polygenic risk scoring for those who carry intermediate- and high-risk mutations. Myriad presented its analysis of how polygenic risk scoring might provide additional valuable information in carriers of mutations in a poster study at the SABCS meeting.
Who benefits most?
The study involved a total of 9,802 patients with intermediate- or high-risk mutations and 141,160 with no pathogenic variants. After adjusting for age and family cancer history, the company evaluated the 86-SNP PRS with invasive breast cancer for each gene type. The 86-SNP polygenic risk score was strongly associated with breast cancer risk for each of the intermediate- and high-risk mutations tested, as well as for those with no pathogenic variants.
"The 86-SNP PRS significantly modifies risk for carriers of BRCA1, BRCA2, CHEK2, ATM and PALB2 [pathogenic variants] albeit with apparently different effect sizes," Myriad Chief Scientific Officer Jerry Lanchbury, PhD, and colleagues reported in the study poster. "These results indicate that risk estimates employing polygenic scores may need to be derived separately for each gene."
Risk was modified the most in those with CHEK2, ATM, and PALB2 mutations. In fact, in carriers of a relatively high-risk gene such as CHEK2, risk was radically modified for those who also carried protective combinations of polygenic risk SNPs, Lanchbury explained in an interview. Those in the highest 86-SNP PRS quintile had a 1.7-fold higher risk than those in the middle quintile, Myriad reported.
The company is in the process of determining how it could combine PRS with carrier status clinically. It also would like to combine genetic results with clinical and biological risk factors that it already reports for noncarriers, for example, age of menarche and menopause and the number of children. Myriad plans to publish the poster study results for women with European ancestry in a peer-reviewed journal, and a study of risk scoring in African American women is ongoing.
The study comes at a time of scrutiny for genetic testing in breast cancer patients. This month, the U.S. National Comprehensive Cancer Network (NCCN) broadened its guidance on genetic testing to include a broad range of variants beyond BRCA1 and BRCA2 in patients with breast or ovarian cancer. The move could pave the way for greater reimbursement of genetic testing.
On the other hand, the American College of Medical Genetics and Genomics (ACMG) just issued a statement against universal testing in breast cancer patients, citing a range of reasons, including uncertainty over the significance of mutations other than BRCA1/2 detected with multigene panel testing.