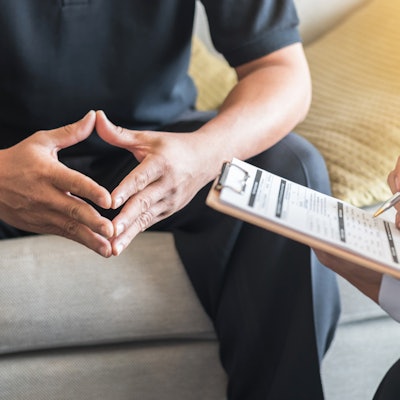 Risk scores from the Oncotype DX breast cancer predictive assay need to be adapted for male patients, who have different underlying disease biology than women, according to a new study published in Clinical Cancer Research, the journal of the American Association for Cancer Research (AACR).
Researchers at Vanderbilt-Ingram Cancer Center evaluated the utility of Oncotype DX (Genomic Health) recurrence scores in 848 men and 110,898 women with early-stage, estrogen receptor-positive (ER+) breast cancer. They used deidentified data from the National Cancer Database, which includes most new cancer cases in the U.S., and noted the recurrence risk score and mortality rate (Clin Cancer Res, November 20, 2019).
In the landmark Trial Assigning Individualized Options for Treatment (TAILORx), the test was useful for guiding chemotherapy in pre- and postmenopausal women with ER+, human epidermal growth factor receptor 2-negative (HER2-) breast cancer, potentially sparing unnecessary treatment. But it's been unclear whether the results would also apply to the small number of cancers seen in men.
Oncotype DX assesses the expression of 21 genes, with the risk of recurrence rated on a scale of 1 to 100. The risk score was positively associated with mortality in male patients, up to a score of 21, whereas with female patients, mortality started to increase when the risk score exceeded 23. Even after adjusting for demographic and clinical characteristics, the traditional cutoffs used for women were not applicable to men, according to the researchers. Overall, the average risk scores were similar in men and women, but the risk score threshold associated with mortality in male patients with breast cancer was much lower than in female patients.
"Studies are needed to establish specific guidelines for [risk score] thresholds for male patients with breast cancer," wrote lead author Dr. Fei Wang, PhD, a visiting research fellow at Vanderbilt University, and colleagues.
Approximately 1% of all breast cancers are diagnosed in men, and diagnosis and treatment practices are based on research and experience in female patients, Wang et al noted. Traditional cutoffs used for assessing low, intermediate, and high risk were not significantly associated with mortality in the male patients in the study. Compared with women, more men were categorized as low or high risk. Men with an intermediate risk score by traditional cutoff measures actually had a high mortality risk, the group reported.
"Studies on sex-specific pathogenic alterations in breast cancer are needed to clarify the underlying mechanisms," the authors concluded.