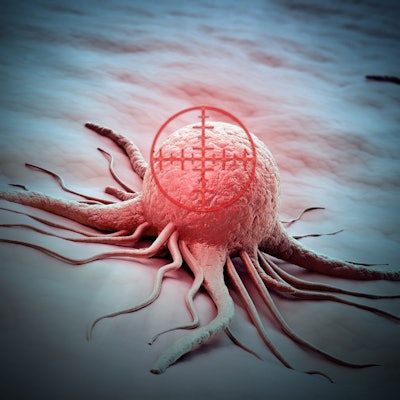 National Comprehensive Cancer Network (NCCN) guidelines should be changed to advise genetic testing for all patients with metastatic breast cancer, according to a recent study in JAMA Oncology. Profiling is needed so that patients won't miss out on targeted clinical trials and drug therapies, the researchers explained.
With the current NCCN guidelines, testing is considered appropriate for some breast cancer patients according to a complex set of criteria: for example, if a family member has tested positive for a cancer susceptibility gene or for those diagnosed with triple-negative breast cancer at age 60 or younger.
The JAMA Oncology research, published online August 29, focused on 100 patients with metastatic breast cancer, and findings from the study suggest the guidelines need to change, at least in the view of researchers at Johns Hopkins University and Vanderbilt University. In the study, patients were evaluated with a 30-gene panel (Color Genomics), regardless of whether they met the NCCN criteria.
The group consisted of 76 white patients, 12 black patients, six Asian patients, three Hispanic patients, and three of other racial/ethnic identification. Two of the participants were male.
Of the total, 14 tested positive for a pathogenic or likely pathogenic variant, and of these 43% did not meet NCCN criteria for testing, senior author Dr. Ben Ho Park, PhD, co-leader of the Breast Cancer Research Program and director of precision oncology at the Vanderbilt-Ingram Cancer Center, and colleagues reported. These patients did not have BRCA mutations but did have other pathogenic or likely pathogenic variants of interest.
In the overall study population, six (6%) had pathogenic or likely pathogenic BRCA mutations, including two patients who had no prior genetic testing.
Limitations of the study included a small sample size, a constricted gene panel, and the exclusion of certain patients who had prior germline testing, Park and colleagues acknowledged.
Wanted: Access to clinical trials
The authors suggested that patients may be missing out on treatment with targeted drugs for breast cancer. Talazoparib (Talzenna, Pfizer), a poly (ADP-ribose) polymerase (PARP) inhibitor, was approved by the U.S. Food and Drug Administration in 2018 for the treatment of HER2-negative locally advanced or metastatic breast cancer with deleterious or suspected deleterious germline BRCA mutations.
Clinical trials are currently being conducted to determine if pathogenic or likely pathogenic variants other than BRCA are predictive for response to PARP inhibitors, such as ATM, BRIP1, and CHEK2. But if patients are not tested, they may be missing out on this option.
"We found almost twice as many mutations than what we would have found if we adhered to NCCN guidelines, and some of those patients could go on clinical trials that could therapeutically help their disease," Park said in a statement.
Many experts would like to see broader access to and use of genetic testing in breast cancer. In August, the U.S. Preventive Services Task Force called for BRCA1/2 testing to include women with a personal history of breast cancer, though it stressed that screening should be performed only when an individual has a personal or family history that suggests an inherited cancer susceptibility.
Park and colleagues pointed out that in a study of unselected patients with metastatic prostate cancer, 11.8% harbored a pathogenic or likely pathogenic germline variant. This discovery led to a change in NCCN guidelines to recommend germline testing for all patients with metastatic prostate cancer, they noted.