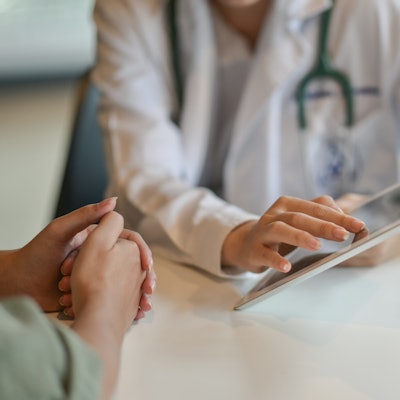 Too few people with cancer are getting genetic testing for germline BRCA1 and 2 mutations in many countries, according to a study published on May 24 by U.K. specialists in JAMA Network Open. But a few simple steps can improve uptake of BRCA1/2 testing.
A quality improvement study of 1,184 people with cancer who underwent genetic testing through the Royal Marsden National Health Service Foundation Trust Mainstreaming Cancer Genetics (MCG) program showed that using five or six simple criteria to determine who should undergo BRCA1/2 testing is efficient and cost-effective for identifying BRCA mutations, which are present in 3% to 5% of breast cancers and 12% to 15% of ovarian cancers.
The five criteria are based on a literature review, guidelines, and real-world evidence; the program streamlines testing for people who have one or more of the following characteristics:
Ovarian cancer
Breast cancer diagnosed when patients are 45 years or younger
Two primary breast cancers, both diagnosed when patients are 60 years or younger
Triple-negative breast cancer
Male breast cancer
Furthermore, the program determined that a sixth criterion could be added to address family history -- patients with breast cancer who also have a parent, sibling, or child with any of the other criteria on the list would be eligible for screening.
The MCG criteria are more inclusive and simpler than traditional family history screening for eligibility for BRCA1/2 testing for women with breast as well as ovarian cancer, reported a team led by Dr. Zoe Kemp, PhD, a breast cancer genetics specialist at Royal Marsden.
"This study suggests that mainstream testing using simple, cancer-based criteria might be able to efficiently deliver consistent, cost-effective, patient-centered BRCA testing," the researchers wrote. "Integrating these results with our equivalent study in ovarian cancer leads to 5 simple MCG criteria that can be used to determine which patients with breast or ovarian cancer should be offered genetic testing."
Addressing 'systematic underuse'
The Royal Marsden study was undertaken in response to what the researchers described as "systematic underuse and inappropriate use of BRCA testing" over the past two decades for women for BRCA mutations. Benefits of knowing BRCA mutation status include the ability to guide patients to targeted treatments, raising awareness about options for prophylactic mastectomy, and alerting relatives about genetic risks.
But complex family history criteria are often used to steer people to testing, which has led to inappropriate and inconsistent BRCA testing, and many patients with BRCA-positive mutations are not tested because they do not meet these criteria, Kemp and colleagues wrote. A recent U.S. study found that only 20% of eligible individuals were offered testing, the authors noted (Journal of Clinical Oncology, December 2017, Vol. 35:34, pp. 3800-3806).
"It is further estimated that only 30% of patients with breast cancer and 10% of unaffected individuals with BRCA mutations in the United States have been identified," they added. "These challenges and outcomes have been similar in many other countries."
The cancer-based criteria performed better than criteria based on family history such as the Breast and Ovarian Analysis of Disease Incidence and Carrier Estimation Algorithm (BOADICEA), which would have missed more than 50% of mutations, despite the fact that they were more inclusive than guidelines from the U.S. National Comprehensive Cancer Network, the authors noted.
The JAMA Network Open study evaluated the impact of a streamlined testing program based on five or six criteria in people who underwent genetic testing between 2013 and February 2017. Counseling was offered during testing for all and after testing for those who tested positive for BRCA1/2 mutations.
Overall, 9.9% of the participants tested positive for BRCA mutations, which is in line with rates reported in other studies. Most of the patients met only one criterion for testing. The researchers found that using either five or six criteria is cost-effective, based on an analysis of quality-adjusted life years (QALY), but they acknowledged that a limitation of the study was that they compared testing with the criteria versus no testing at all. Use of either five or six criteria would mean testing one-third of breast cancer patients and identifying all who had BRCA1/2 mutations, they concluded.
"When we initiated the study, no germline genetic testing in oncology was performed in the United Kingdom, so testing [versus] no testing was considered the most appropriate comparison," the authors explained. "Furthermore, a major aspiration of the MCG [program] was to provide data and resources that could be used by the many centers and countries that do not yet offer BRCA testing."
The five MCG criteria represent a good option for countries that don't currently have an established program for BRCA screening of women with breast or ovarian cancer, the authors noted. For countries that have been using family history based selection criteria, the "change may be too radical," but adding the sixth family history-related criterion retains the simplicity and ability to detect mutations, they suggested.
"Ultimately, offering testing to all patients with breast cancer will likely occur. However, currently, most centers have limited resources they must use for testing at a specified mutation detection threshold," Kemp and colleagues wrote.