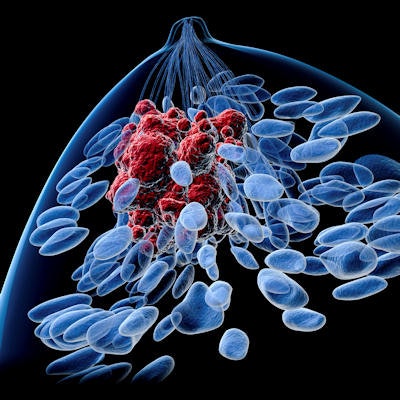 The College of American Pathologists (CAP) and the American Society of Clinical Oncology (ASCO) are taking comments on a proposed revision of guidelines covering immunohistochemical (IHC) testing for estrogen and progesterone receptors in breast cancer.
More than 1 million women around the world are diagnosed with breast cancer each year, and receptor testing conducted on biopsied tissue typically finds that eight in 10 have estrogen receptor-positive breast cancer. Hormone receptor status can be valuable for classifying tumors and for guiding treatment, such as by identifying women who might benefit from endocrine therapy.
CAP and ASCO last issued their guidelines on estrogen and progesterone receptor testing in 2010. To update those recommendations, they have opened a comment period through April 29 on CAP's website.
The proposed guidelines mostly reaffirm the previous guidance; however, they do address two new issues:
The guidelines recommend additional steps to address and interpret cases with low or weak estrogen receptor expression.
For cases of ductal carcinoma in situ only, estrogen receptor testing is now recommended; progesterone receptor testing is still considered optional.
The proposed guidelines also cover the following items:
Optimal algorithm for estrogen/progesterone receptor testing: Samples are considered positive if at least 1% of tumor cell nuclei are immunoreactive. Unchanged from 2010 guidelines.
Optimal testing conditions: Large, preferably multiple core biopsies of tumors are preferred for testing if they are representative of the tumor grade and type at resection. Unchanged from 2010 guidelines.
Optimal tissue handling requirements: The time from tissue acquisition to fixation should be as short as possible. Samples are fixed in 10% neutral buffered formalin (NBF) for six to 72 hours, and they should be sliced in 5-mm intervals and placed in sufficient volume of NBF to allow adequate tissue penetration. Unchanged from 2010 guidelines.
Optimal internal validation procedures: In an update, the new rules recommend that these procedures follow an upcoming update from CAP, "Principles of Analytic Validation of IHC Assays," when that becomes available.
Optimal external proficiency requirement: In an update, labs should demonstrate successful participation in estrogen/progesterone receptor external proficiency testing or alternative performance assessment, as required by the lab's accrediting organization.
Optimal laboratory accreditation: Onsite inspection is required every other year, with an annual requirement for self-inspection. Unchanged from 2010 guidelines.
A panel of CAP and ASCO experts will evaluate the feedback received through the comment period to assess possible revisions to the updated recommendations. When the update is published, CAP will recommend a timeline for the new guidelines to be implemented at clinical labs.