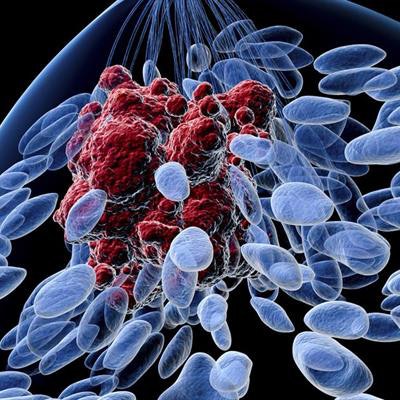 University of Colorado researchers have developed a blood-based cell-free DNA method that they believe could solve a challenge in monitoring breast cancer progression: the need to frequently take tissue biopsies.
In a study published recently in Science Advances, the researchers found that plasma cell-free DNA (cfDNA) contains high resolution, genome-wide binding estrogen receptors (ER) and FOXA1 profiles for breast cancer.
"We can obtain the same molecular information we get from tissue biopsies directly from the blood," Srinivas Ramachandran, a coauthor of the study and assistant professor of biochemistry and molecular genetics at the Colorado University School of Medicine, said in a statement. "If we can extract this kind of information without doing a biopsy, we could provide more information for treatment decisions."
Dying cells in the human body release their contents into the bloodstream; when cancer is present, it also releases fragments of cfDNA into plasma.
"This suggests that cfDNA has the potential to map the tumor epigenome in real time and therefore can help uncover the regulatory landscape of cancer from plasma," Ramachandran said.
The researchers wrote that while genome-wide binding profiles of estrogen receptor and FOXA1 reflect cancer state in estrogen receptor positive (ER+) breast cancer, routine profiling of tumor transcription factor (TF) binding, which requires tissue biopsies, has thus far been impractical in the clinic.
In the study, they found that plasma cfDNA could make routine monitoring more practical because it contains high-resolution estrogen receptor and FOXA1 tumor-binding profiles for breast cancer.
"Enrichment of TF footprints in plasma reflects the binding strength of the TF in originating tissue," the researchers wrote in the paper, adding, "We defined pure in vivo tumor TF signatures in plasma using ER+ breast cancer xenografts, which can distinguish xenografts with distinct ER states. Furthermore, state-specific ER-binding signatures can partition human breast tumors into groups with significantly different ER expression and mortality."
Such plasma-based transcription factor footprints "open vast possibilities for clinical applications across multiple tumor types," the researchers added.
The findings from the study could lead to a genome-wide map for defining disease state, predicting treatment outcomes, and choosing the most effective cancer therapy, the researchers said, adding that none of that is practical at present due to the risks involved in obtaining tumor tissue.