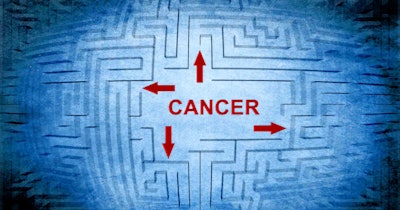 Swedish cancer detection company Elypta on Wednesday announced the publication of research conducted at Chalmers University of Technology in Gothenburg showcasing the multicancer early detection (MCED) potential of glycosaminoglycans as biomarkers of tumor metabolism.
The research, conducted by Elypta founders Jens Nielsen and Francesco Gatto, was published this week in the Proceedings of the National Academy of Sciences (PNAS).
In a screening-like study, researchers developed a test that used the measurement of free glycosaminoglycan (GAG) profiles in plasma and urine using Elypta's Miram kit and samples from 979 participants, including healthy subjects and individuals diagnosed with 14 different cancer types.
The cancer types included those that are difficult to detect with other methods, such as brain tumors and kidney cancer, Elypta said. In the study, the test detected 43% of future cancers with a lethal outcome and had a false positive rate of 1%. According to the Stockholm-based firm, its test proved exceptionally sensitive to stage I cancer, doubling the detection rate reported by genomic biomarkers validated in similar populations.
The estimated testing cost was less than $50 with low sample volumes needed, underlining the potential for widespread use, the firm said.
Its metabolism-based liquid biopsy platform in development measures a panel of biomarkers and utilizes machine learning algorithms to generate cancer type-specific GAG scores.
"These results made us realize that there is an opportunity to commercialize a highly differentiated MCED test with industry-leading real-world stage I sensitivity and cost-efficiency," Elypta CEO Karl Bergman said in a statement. "While we continue to advance our technology, we also now engage with clinicians interested in working with us to explore optimal settings for future clinical implementation."
Earlier in 2022, Elypta launched a clinical study to validate the clinical performance of glycosaminoglycans as metabolic biomarkers for MCED. The study aims to detect any type of cancer in about 10,000 adults who show no symptoms or have no recent history of cancer.