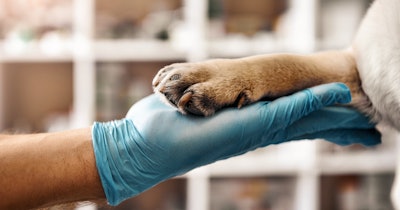 Multinational epigenetics company Volition announced Thursday the signing of a global supply agreement for its Nu.Q Vet Cancer Test with an undisclosed pet healthcare firm.
According to the agreement, the pet healthcare firm will become a worldwide provider of the pet cancer assay through its reference laboratory network.
Financial and other terms of the agreement were not disclosed.
The Nu.Q Vet Cancer Test was developed to streamline the diagnostic process for early detection of cancer in dogs as a single cost-efficient assay, Volition said.
The test uses the Belgium-based firm's Nucleosomics platform to measure and analyze nucleosomes in blood.
The test detected 76% of systemic cancers (including lymphoma, hemangiosarcoma, and histiocytic sarcoma) in studies at 97% specificity, according to Volition.
Volition uses its Nucleosomics technology to develop tests to diagnose and monitor a range of diseases in both humans and animals, including cancer, sepsis, and COVID-19, with an emphasis on early diagnosis.