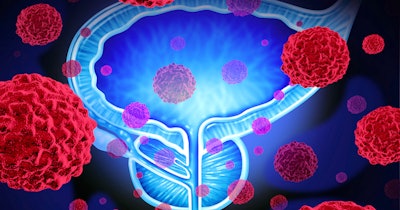 A large study indicates that active surveillance rates for managing low-risk prostate cancer are rising nationally, but are still suboptimal.
The results, published Thursday in JAMA Network Open, indicate that improving practice patterns might help minimize overtreatment of low-risk prostate cancer.
Prostate cancer is the second leading cause of cancer mortality among U.S. men, yet most cancers identified through screening are indolent, posing minimal threat to length or quality of life, even decades after diagnosis. Early detection and treatment of aggressive cancers have helped significantly decrease mortality rates, but at the cost of avoidable morbidity and costs attributable to the overtreatment of indolent tumors. Prostate cancer risk can be reliably classified using long-available, well-validated tools, but prostate cancers have historically been treated regardless of risk.
Active surveillance for prostate cancer aims to avoid the potential complications and adverse effects of treatment while retaining curative treatment options if signs of progression occur. Clinical guidelines now endorse active surveillance as the preferred management strategy for low-risk prostate cancer, but its use in clinical practice is not well defined.
The study researchers sought to characterize trends over time and practice- and practitioner-level variation in the use of active surveillance as a primary treatment for patients diagnosed with low-risk prostate cancer, as determined using the American Urological Association Quality (AQUA) Registry, which includes data from 1,945 urology practitioners at 349 urology practices across 48 U.S. states, comprising more than 8.5 million patients. Data are automatically collected from electronic health record systems at participating practices.
This retrospective analysis of a prospective cohort study included men with low-risk prostate cancer, defined as prostate-specific antigen (PSA) less than 10 ng/mL, Gleason grade group 1, and clinical stage T1c or T2a, diagnosed between January 1, 2014, and June 1, 2021. A total of 20,809 patients were diagnosed with low-risk prostate cancer and had known primary treatment. The median age was 65 years; 31 were Native American; 148 were Asian; 1,855 were Black; 8,351 were white; 169 were other races; and 10,255 lacked information on race or ethnicity.
Rates of active surveillance increased sharply and consistently from 26.5% in 2014 to 59.6% in 2021. However, its use varied from 4% to 78% at the urology practice level, and from 0% to 100% at the practitioner level. On multivariable analysis, the year of diagnosis was the variable most strongly associated with active surveillance; age, race, and PSA value at diagnosis were also associated with surveillance rates.
The researchers concluded that active surveillance rates for low-risk prostate cancer, while still suboptimal, are rising nationally. However, since surveillance use varied widely across practices and practitioners, improving practice patterns is essential in order to minimize overtreatment of low-risk prostate cancer.
They hope to document further reductions in overtreatment rates over time–by extension, improving both the benefit-to-harm ratio of national prostate cancer early detection efforts, and our national prostate cancer outcomes.