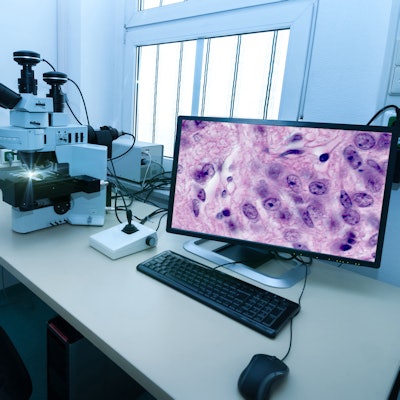 It's no secret that digital pathology's efforts to integrate itself into clinical diagnosis have been met with difficulty in recent years. While hospital departments like radiology and cardiology took up and embraced digital workflows long ago, pathology has had an unusually long journey to digitization.
There are unique circumstances causing this, including a combination of overregulation, tight reimbursement, and a lack of evidence for tangible cost savings. However, even despite this, pathology's dwindling workforce and increasing caseloads have always made the case for digitization's seeming inevitability.
Over the years, many have wondered what it would take for the market to finally see the light and digitize -- the answer is, apparently, a viral pandemic.
A rude awakening
At first, when COVID-19 hit and stay-at-home orders were enacted, the outlook for the digital pathology market was dire.
As hospitals promptly closed doors and sales conversations were halted, vendors began to worry. This was compounded by logistical disruptions when deploying pathology slide scanners, with increasing delays seen in implementation as healthcare sequestered resources.
While a small windfall of preclinical demand mitigated the initial slowdown in the clinical sector, the overall effect was that in the early days of the pandemic, declines were projected across most segments and geographies.
However, as stay-at-home orders were extended and the pandemic continued, digitization in the pathology lab saw a sudden surge in interest. Early on, the U.S. Food and Drug Administration (FDA) issued a waiver allowing pathologists to conduct primary reads from home and loosening restrictions on software-hardware approvals. This resulted in a surge of clinical pathology adoption.
The culmination of this was a market that saw 40.9% year-over-year growth, with many vendors reporting record sales, as shown in figure 1.
Digital pathology: Here to stay?
Following extensive interviews with industry vendors, it's clear that for the next five years, market sentiment in digital pathology is expected to remain strong.
While progress will be felt differently depending on individual geographies and product segments, recent events highlighting the benefits of digitization mean that whether another wave (or new pandemic) appears, pathology will not be caught unaware for a second time.
However, while the necessity of digitization is now clear, many challenges that previously inhibited adoption in the market still exist today, as shown in table 1.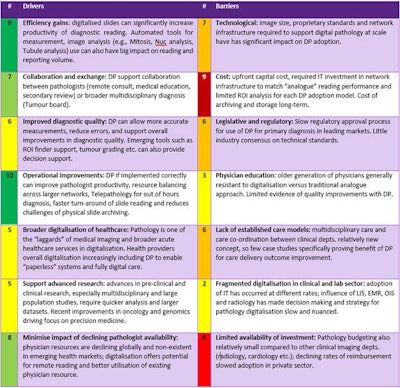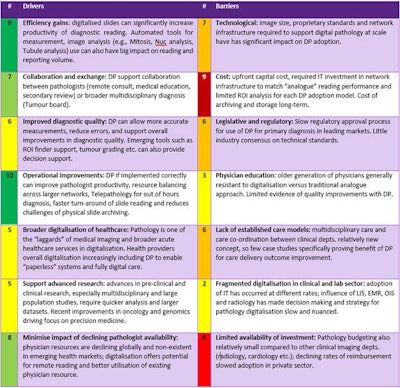 While these challenges are expected to continue and significantly impact the market in the years ahead, new momentum brought about by the pandemic has increased stakeholder engagement and desire to help address and overcome these issues.
Software driving the market forward
Previously, the digital pathology market was dominated by coupled hardware-software sales, which offered competitive pricing for early adopters. This often resulted in a reduced focus on the software segment, which was often overdiscounted in larger deals. As adoption increases, we expect this to shift rapidly.
Best-of-breed (BOB) open-platform software vendors like Proscia, Inspirata, and Tribun saw strong growth throughout the pandemic. This was driven by demand for premium functionalities from early adopters who suddenly needed to scale quickly and customize workflows across multiple sites.
While, historically, interest in BOB software was stronger in Europe due to less stringent regulations, the FDA's waiver issued in April 2020 removed the requirement for pathology software to be attached to a specific scanner model. This rapidly opened the market and allowed unprecedented growth.
In response, we expect several smaller vendors to begin expanding beyond their domestic markets and into the U.S. This will help to both drive competition and increase innovation. The software segment is projected to constitute 38.3% of total revenues in 2025. (See table 2.)

Funding and the role of enterprise imaging
We also expect several new entrants into the digital pathology software market in the next few years. These newcomers will come from radiology information technology (IT) as a result of the increasing inclusion of pathology in enterprise imaging deals.
Some vendors in the digital pathology market, such as Sectra and Fujifilm-Inspirata, are already utilizing this model, coupling sales of radiology IT software with pathology applications to win new business.
There are several advantages to this approach, including allowing pathology departments to piggyback on (usually larger) radiology budgets to help mitigate digitization costs. This also benefits wider hospitals, as healthcare is increasingly transitioning toward multidisciplinary care models.
While there are relatively few examples of combined radiology and pathology sites operationally using a combined platform for primary diagnostic use today, an increasing number of tenders are emerging that stipulate secondary clinical access to digital pathology data within radiology (and vice versa).
Some pessimists may caution that these enterprise imaging deals could potentially result in the minimization of BOB software. Chiefly, this will depend on the approach new radiology IT entrants take.
Considering the history of the market, and the relatively nascent enterprise imaging trend, we at Signify would recommend radiology IT partnerships with BOB vendors as a low-risk method of entry, allaying concerns from purists and facilitating interconnectivity early on in digitization.
Silos and the role of operational business models
In concurrence with pathology-radiology adoption will be the advent of digital pathology in more cost-constrained environments.
Significant costs associated with scanner purchases in recent years have acted to delay adopters who simply cannot afford investment in higher-throughput models, limiting the use of digital technologies in these environments. In the future, we expect an increasing number of alternative business models to emerge, which will help spread these costs over a managed period.
An example of this would be the model operated by vendor OptraScan, which recently announced a partnership with software vendor Inspirata that involves no upfront expenditure. The partnership also allows labs to streamline supply chains and reduce difficulties with integration. In summary: Digitization is made simple with more predictable costs and a lower barrier to entry.
For the majority of clinical pathologists who are just now being introduced to digital workflows, this approach can be much more attractive than combining integration with other departments.
The future of the market
It's clear that the digital pathology market has benefited enormously from the COVID-19 pandemic; however, much progress and innovation is yet to come.
As hospitals now begin truly considering how best to invest and scale digital pathology departments, we expect further questions will emerge surrounding storage models, artificial intelligence integration, and the role of standards. While not all of these topics can be covered in a single article, it's clear that the market as a whole is set for an exciting few years ahead.
Signify Research is an independent supplier of market intelligence and consultancy to the global healthcare technology industry. Its clients include technology vendors, healthcare providers and payers, management consultants, and investors.
Signify's market study "Digital Pathology - World - 2021" includes insights regarding the digital pathology market and its future.
The comments and observations expressed are those of the author and do not necessarily reflect the opinions of LabPulse.com.