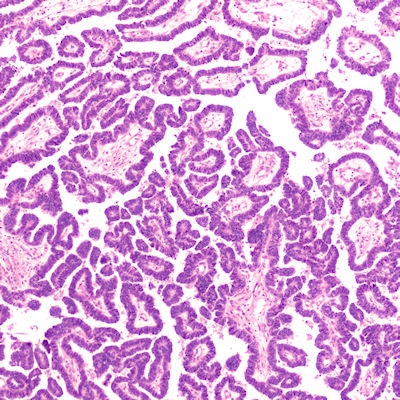 The prevalence of a benign gynecologic lesion called endosalpingiosis (ES) is substantially higher than previously reported, according to a new study that has implications for assessing cancer risk. The results were published May 13 in the journal PLOS One.
The discovery was made by a team of researchers from the Madigan Army Medical Center in Tacoma, WA; Baylor College of Medicine; and Texas Tech University Health Sciences Center.
Over the last decade, researchers had become concerned about links between ES and other benign lesions to ovarian cancer. However, the team's discovery that the lesions are quite common suggests that ES is not a direct cause of cancer as previously suspected.
Pathologists at the Madigan Army Medical Center adopted the Sectioning and Extensively Examining-Fimbria (SEE-Fim) protocol to determine the actual prevalence of ES in their gynecologic samples, and the study retrospectively evaluated this change in practice. Under the stricter SEE-Fim protocol, the reported prevalence of ES increased from 2.54% to 22.15% over a one-year period. The team found an ES prevalence of 37% in women ages 31-50 and 66% in postmenopausal women. A full 93% of women older than 50 harbored at least one benign lesion of one kind or another.
"This is a way more common finding than what people suspected," said Baylor College of Medicine gynecology specialist Dr. Jan Sunde, who led the team of researchers, in a statement about the data. "If ES occurs so frequently, then it likely is not the first step in cancer development, and it's much less concerning."
Sunde noted that women with ovarian cancer do have ES at a higher rate, but this could be due to sampling bias, since women with cancer undergo more thorough pathology testing.