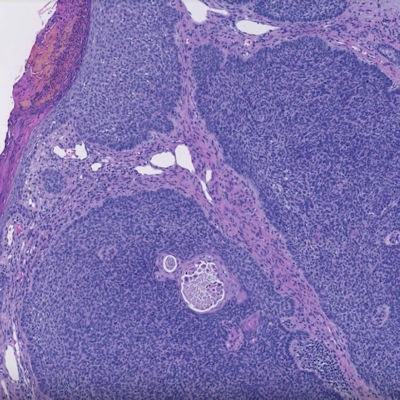 The U.S. Food and Drug Administration (FDA) has issued a guidance document regarding the use of remote digital pathology devices during the COVID-19 crisis.
The guidance is intended to help industry, clinical laboratories, healthcare facilities, pathologists, and FDA staff boost availability of devices for remote reviewing and reporting of scanned digital pathology slides during the pandemic, the agency said.
"In the context of the COVID-19 public health emergency, expanding the availability of remote digital pathology devices may help facilitate pathology services while reducing healthcare personnel contact and risk of potential exposure to SARS-CoV-2," the FDA wrote.
Usually, manufacturers of the following types of devices must submit a premarket 510(k) application to receive FDA clearance for marketing in the U.S.:
Automated digital image manual interpretation microscopes
Whole slide imaging systems
Digital pathology image viewing and management software
Digital pathology displays
For the duration of the COVID-19 crisis, the FDA will "not object to" modifications in already-cleared indications, functions, hardware, and software for digital pathology devices, as well as the marketing of new devices such as those listed above intended for remote use "that are not currently 510(k) cleared for any use" -- although the devices must not "create an undue risk in light of the public health emergency" and manufacturers must still submit a premarket application.
The guidance also urges manufacturers to include labeling to help users understand the modifications, and it recommends that laboratories implement cybersecurity controls and consider performing validation studies before using a device for remote reviewing and reporting of digital pathology slides to ensure the quality of images is sufficient.
"Additionally, while no device-specific performance recommendations are included in this enforcement policy, CLIA regulations and State law (including those related to performance) apply, although some CLIA regulations may be subject to [Centers for Medicare and Medicaid Services (CMS)] enforcement policies during this public health emergency," the FDA wrote.
The policy is being implemented without prior public comment "because FDA has determined that prior public participation for this guidance is not feasible or appropriate," the agency said, although comments can be submitted at any time.
"In general, FDA's guidance documents, including this guidance, do not establish legally enforceable responsibilities," the FDA noted. "Instead, guidances describe the agency's current thinking on a topic and should be viewed only as recommendations, unless specific regulatory or statutory requirements are cited."