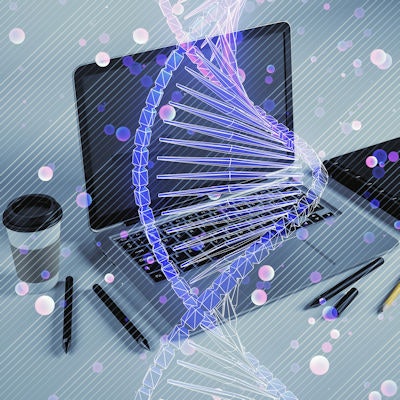 A free online morning lecture series for residents sponsored by the College of American Pathologists (CAP) has sprung up as an option for remote learning -- and companionship -- during the COVID-19 pandemic.
Virtual lectures on a range of clinical pathology topics are scheduled for every weekday morning at 10 a.m. Central Standard Time (CST) and last one hour, followed by a question and answer session. Attendees can join 15 minutes early for a prelecture "coffee" chat hosted by Ken Molay, president of Webinar Success, who provides training and support.
Do webinars work? I'm facilitating a daily learning series where pathology residents hear from world-class doctors. 4500+ registered around the world. 1000+ live attendees each day. Tons of questions answered. They're lovin' remote learnin'!— Ken Molay (@klmonline) April 13, 2020
Sessions are geared for pathology residents and were created as a means of satisfying requirements for learning the basics of pathology. Spearheaded by Teresa Burgin, senior manager of marketing programs at CAP, the idea was to create an online lecture series of use to residents around the world, across time zones. CAP membership is not required.
COVID-19 is reshaping the norm -- residents have been asked to work at home, which has made it difficult to attend daily didactics, explained Dr. Christina Arnold, an associate professor of pathology at the University of Colorado. The virtual sessions can be viewed from any location on a desktop or mobile device. Most of the lectures are recorded and available on replay, but attending live allows for more of an interactive process with instructors and the opportunity to submit questions in real-time.
"What we all are going through right now is a very frightening and isolating time. But to know every day, Monday to Friday at 10 a.m., you can be a part of this huge worldwide movement of learning, gives us a sense of normalcy again and gets us back to what we used to do every day," commented Arnold, who helped organize the programming and line up speakers. "It's been really important."
Although the lecture series is designed for residents, it is open to all, including pathology faculty and patients who have an interest in understanding pathology care. Attendance is free and requires a quick registration process (a handful of questions) prior to the start of a lecture. The first lecture was held on April 1 and was promoted on Twitter (follow at #CAPVirtualPath). Based on high interest shown from the beginning, CAP expanded the capacity for each session from 1,000 to 3,000.
#CAPVirtualPath has more than 9 million impressions! Bravo to @Pathologists and all the people making this possible.
I love the composite image. #WeAreNotAlone#ILookLikeAPathologist pic.twitter.com/dtu2bxPx8Y— Christina Arnold, MD (@CArnold_GI) April 7, 2020
Examples of past lectures and instructors include the following:
Molecular Pathology of Colorectal Cancer (Dr. Raul Gonzalez, Harvard Medical School)
Current Controversies in Prostate Pathology (Dr. Sean Williamson, Henry Ford Health System)
Tik Tox: A 3-part Toxicology Primer (Dr. Barbarajean Magnani, PhD, Tufts University)
Pitfalls and Pearls in Peritoneal and Pleural Fluid Cytology (Dr. Xiaoyin "Sara" Jiang, Duke University)
For the series, programming and recruitment of educators had to be achieved rapidly, as the pandemic didn't allow time for the usual processes of brainstorming a lot of ideas and getting them vetted through committees. Organizers came up with a list of potential educators and sought to balance the topic selection to represent the pathology curriculum.
"We have to transform how pathology is taught within a very short amount of time ... this has been very successful," Arnold said. "We are excited we found a way to provide quality material to thousands of people around the world who really need it."