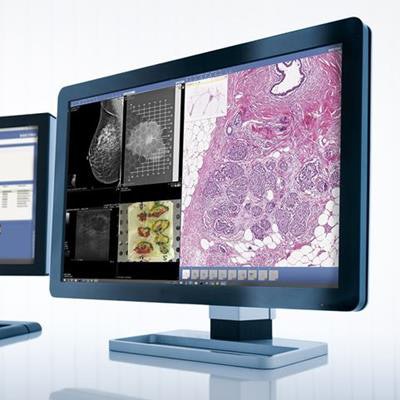 In part 1 of this series, I reviewed the financial challenges in implementing a digital pathology system (DPS) and ways to make the investment more attainable. Sharing vendor-neutral archives (VNAs) and other infrastructure already existing in healthcare facilities and in use in radiology and other clinical departments improves the outlook considerably.
Reducing the total cost of a DPS by $200,000 or more by sharing the different components of enterprise imaging systems (EIS) puts an investment more within reach financially. That said, you need to show more than just a financial return on investment to get any new clinical system implemented.
Patient care and patient safety are paramount at quality healthcare facilities. Having all patient pathology slides in one place that can be easily and quickly accessed, with the correct slides -- prior and current -- associated with the patient, is key. The benefits of a digital pathology system include storage of all images in a central archive, space savings, the ability to easily compare multiple slides against each other, and "view sharing" where images and data are shared for second opinions and consultations. Reviewing several years' worth of studies takes just a single click, eliminating the need to go through cabinet after cabinet full of slides, including any that may be stored offsite.
Multiple slides can be streamed to the pathologist's workstation in real-time, so there is no delay in images being available for reading. Any and all associated information from other clinical systems (radiology reports, lab findings, etc.) is sent along with the slides, so this information is also available for review.
Regulatory considerations
CLIA stipulates that laboratories must retain cytology slides for a minimum of five years, histopathology slides for a minimum of 10 years, and paraffin blocks for a minimum of two years. Legally, digital storage cannot take the place of physical storage, which is not surprising considering that whole slide imaging for digital pathology was approved by the U.S. Food and Drug Administration less than three years ago.
Interestingly, the technology to enable digital storage of pathology images has been around for nearly 20 years. And when you consider environmental disasters such as Hurricane Katrina in New Orleans, earthquakes in Puerto Rico, tornadoes that routinely affect the Midwest, and wildfires in California, storing pathology images on a VNA may be viewed not just as optional but desirable.
In addition, with the rapid advancement of clinical IT system standards recently, it will be much sooner rather than later when digital archiving of whole slide images becomes an acceptable way to store images. Slides degrade over time and provide little to no value after seven or eight years, whereas once an image is digitized, it cannot be broken, nor will it degrade. The ability to keep images past the average retention time frame can be a crucial advantage, especially when dealing with litigation. A facility that starts proactively archiving its pathology slides now will be far ahead of the curve.
Connecting the dots with AI
Meanwhile, the use of artificial intelligence (AI) is expanding and can have a big effect on all types of imaging.
Just as the number of radiologists worldwide is insufficient to handle the increasing volume of radiology studies, there aren't enough pathologists to handle increasing workloads. Connecting findings from radiology and pathology with AI's input has potential to provide enormous clinical benefits in the future of precision medicine. This will only be possible when data from both systems are easily accessible; having both types of studies stored in the same archive helps meet this requirement.
AI can also offer a "first pass" review of the slides or provide a second opinion to the pathologist. Many AI programs can catch subtle findings as well as provide an initial impression faster than a pathologist can alone. AI also has a comparable number of false positives and false negatives to those found with standard manual interpretation processes. That said, nothing beats the trained eye and skillset of a pathologist or radiologist, using AI as an adjunct to the interpretation process.
At present, more than 30 companies offer AI software for pathology, and many more are expected to offer their services in the years to come.
What to look for in vendors
In an age when the word "interoperability" is tossed about and standards have been developed yet still take years to be adopted by vendors, cooperation between vendors is key. Ideally, all DPS vendors would support Supplement 145 of the DICOM Standard, which addresses whole slide imaging, as well as advances developed by various working groups.
Sadly, the reality is far from that. That's why it's best to stick with a vendor that can demonstrate a system that supports industry standards, in addition to offering the functionality you want and need. Looking closely at the pathology-specific features is also key. You need to determine if the system can perform specialty imaging capabilities such as fluorescence and focus stacking/focus blending, among other things.
Finally, with a shared system, there may be a need to address issues in the internal political environment. Radiologists might push back against sharing "their" system until they can be shown that sharing the EIS/VNA will not affect their system performance. As more than 90% of all prestaged radiology images come from the radiology image server and less than 10% from the VNA, this should be easy to prove. Sharing the cost of the archive and image servers will no doubt also be warmly embraced by radiology administration, since it is a cost-saving measure.
By sharing components of the EIS, such as the VNA and image servers, and being creative in showing the advantages and benefits of a digital system over manual processes, you may be able to secure the system you desire. This system will not only benefit the department it was chosen for but will also complement other clinical systems, helping a facility get one step closer to the utopian goal of the fully electronic health record.
Michael J. Cannavo is known throughout the radiology industry as the PACSman. After several decades as an independent PACS consultant, he worked as both a strategic accounts manager and solutions architect with two major PACS vendors. He has returned to consulting to help facilities integrate various clinical systems, in addition to performing PACS optimization services, system upgrade and proposal reviews, contract reviews, and other items.
The comments and observations expressed are those of the author and do not necessarily reflect the opinions of LabPulse.com or AuntMinnie.com.