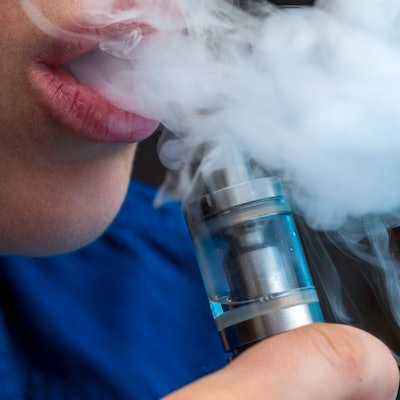 The incidence of electronic cigarette (e-cigarette), or vaping, product use-associated lung injury (EVALI) in the U.S. peaked in early September and has since been on a slight decline, according to a special report released on December 20 in the New England Journal of Medicine.
Researchers from the U.S. Centers for Disease Control and Prevention used a national surveillance program to determine the prevalence of EVALI reports from January 1, 2017 to December 7, 2019 among approximately 70% of all emergency departments in the U.S.
They found that the incidence of EVALI reports remained relatively steady for most of the period until it suddenly increased by an average of 26 cases per 1 million visits each week between August 11 and September 8 of 2019. The weekly report rate peaked at 116 cases per 1 million visits during the week of September 8, followed by an average decrease of six cases per 1 million visits.
In addition, the researchers found that the use of medical billing codes related to diagnosing EVALI increased by an average of 47 per 1 million visits between June 2 and September 29, 2019. Overall, the rate of EVALI reports increased sharply in June 2019, peaked in September 2019, and has since decreased.
Furthermore, the recent surge in EVALI reports coincided with a shift to newer-generation e-cigarettes that use nicotine salts, which may enhance the potentially toxic effects of flavoring agents, and also coincided with the growing use of CBD oil and THC in e-cigarettes, the researchers noted.
"Although the incidence of emergency department visits ... and discharge diagnosis codes associated with EVALI has decreased since the peak, the incidence has not decreased to the rates that were observed before June 2019, which shows a need for continued monitoring and prevention," they wrote.