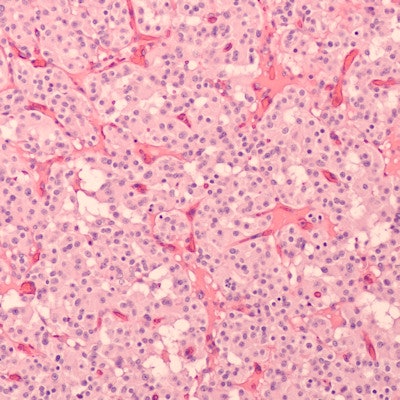 Biomarker tests that could be easily incorporated into immunohistochemistry lab workups are helpful for identifying aggressive pancreatic neuroendocrine tumors (PNETs) and could be rapidly implemented in labs, a multicenter research team reported in Nature Medicine on July 1.
In a molecular profiling study of 142 tissue samples of PNETs that were nonfunctional, meaning they do not release excess hormones into the bloodstream, expression of the aristaless related homeobox (ARX) regulatory protein was associated with a greater risk of tumor recurrence. Conversely, expression of the pancreas/duodenum homeobox 1 (PDX1) protein typically was associated with more indolent tumor types, the researchers found in the study funded by the Neuroendocrine Tumor Research Foundation.
"This robust molecular stratification provides insight into cell lineage correlates of [nonfunctional] PNETs, accurately predicts disease course and can inform postoperative clinical decisions," reported Dr. Ramesh Shivdasani, PhD, an oncologist at the Dana-Farber Cancer Institute, and colleagues.
In 103 cases followed long term, most distant relapses were in those who were positive for ARX and negative for PDX1. Further evaluation is needed and could shed more light on PNET subtypes, but it would be straightforward to incorporate ARX and PDX1 into immunohistochemistry testing, according to the researchers.
"This favorable association with PDX1 expression can be applied rapidly in the clinic," they wrote. "Specifically, patients with small [PDX1-positive] tumors may be reassured and followed conservatively, whereas vigilant monitoring in patients with [PDX1-negative] tumors may detect early metastases amenable to surgical or medical treatment."
How fast, exactly, could this be done? Shivdasani told LabPulse.com by email that it will depend on how quickly clinical pathology labs pick up on the findings and decide to bring them into routine practice. ARX and PDX1 antibodies are available commercially, but it will likely take licensing agreements and optimization for clinical use, he said.
"My guess is that ambitious pathologists in some academic centers will take the lead in developing a clinical assay, which will then spread out into the larger community," Shivdasani said. "Eventually the demands will be driven by oncologists (and patients), who will persuade local pathologists that the information is important for clinical management."
PNETs grow from the islet cells in the pancreas and account for about 7% of pancreatic cancers. Molecular features of PNETs have been identified in the past, but there have been challenges in using them as prognostic markers for guiding management.
Because nonfunctional PNETs do not produce excess hormones, malignancies may not be detected until later stages. The researchers noted in their Nature Medicine report that surgery is typically recommended for solitary PNETs that are bigger than 2 cm, and it has been difficult to characterize nonfunctional PNETs, about half of which wind up metastasizing with fatal consequences.
"The new, clinically actionable differences reported among PNET types illustrate a general strategy to stratify cancers by epigenetic landscapes and cell lineage, with prognostic implications," the group concluded.