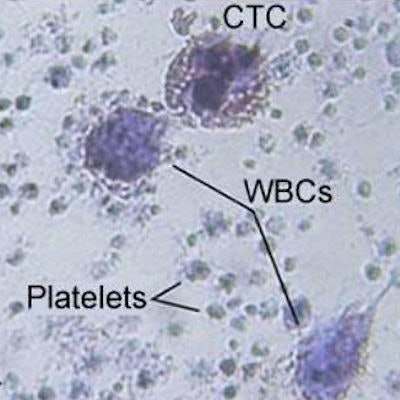 Results of in vivo liquid biopsy using an investigational laser- and imaging-based platform suggest higher sensitivity for detecting circulating tumor cells (CTCs) in patients with melanoma than would be provided by currently available tests, according to a small study published in Science Translational Medicine on June 12.
Using the Cytophone in vivo photoacoustic flow cytometry diagnostic system, which incorporates laser pulses and focused ultrasound to detect pigmented circulating tumor cells directly in the bloodstream, researchers identified melanoma in 27 of 28 stage III/IV patients. Importantly, the method did not produce false positives in 19 normal control participants, the researchers reported. The nonrandomized, nonblinded study was led by Vladimir Zharov, PhD, and colleagues at the University of Arkansas.
The Cytophone system is being developed at the university, with the help of grants from the U.S. National Institutes of Health (NIH). Melanoma is one of the first tumor types being investigated. The hope is that the system could help detect cancer in early stages through the analysis of large volumes of blood -- and also that it could be used to monitor the treatment of cancer cells in real-time.
The prognosis for the disease has improved with the introduction of programmed cell death 1 (PD-1) inhibitors, which were first approved for late-stage melanoma and have been making their way into earlier lines of treatment. However, the Arkansas team sees an unmet need for early detection: The average five-year survival rate is 10% to 15% for metastatic disease, compared with 97% for early nonmetastatic cases, the authors noted in their Science Translational Medicine article. Zharov told LabPulse.com that the method is likely complementary to PD-1 blockade.
Ex vivo tests of circulating tumor cells, including the U.S. Food and Drug Administration-cleared CellSearch CTC test kit (Menarini Silicon Biosystems), microfluidic chips, and cell-size filtration, have shown promise for CTCs as a prognostic marker and for monitoring response to therapy; however, they have been limited by the small amount of blood analyzed, i.e., a few milliliters, the researchers noted.
"In general, inconsistent results are increasingly reported among the various CTC assays, especially in the correlation between the presence of CTCs and survival rate," Zharov et al wrote. "As a result, CTC assays are not yet recommended for broad use in cancer clinics."
With the Cytophone system, "the detection limit ranged down to 1 CTC/liter of blood, which is [about 1,000] times better than preexisting assays," the group reported.
The researchers have been focused on melanoma as the system's initial target, but they believe that nanomedicine techniques will allow its use to be extended to other cancers, though that will take time, they wrote.