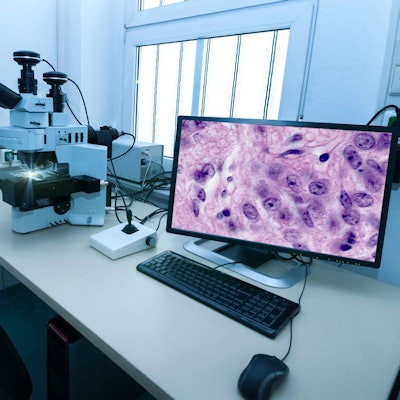 As workloads increase in laboratory medicine, some pathology labs have considered harnessing new technologies to improve workflow and efficiency. One of the most promising technologies is digital pathology -- but it carries a price.
The first digital pathology system for primary diagnostic use became available when Philips Healthcare received U.S. Food and Drug Administration (FDA) clearance in 2017 for its IntelliSite Pathology Solution. As this and other digital pathology products become available, labs face the dilemma of managing a transition that offers higher efficiency but at the price of a major capital investment.
Most likely, larger pathology labs will increasingly take the plunge into digital with large-scale implementations. Meanwhile, small to midsize labs will find that gradual, scalable implementation would be a good way to move from the mechanical into the digital arena.
The benefits of digital
Digital pathology offers labs a way to eliminate many error-prone, time-consuming, and repetitive manual tasks. In addition, boxes containing slides would no longer have to be shipped to labs and specialists for review, a time-consuming proposition that brings with it the risk of having slides lost in the mail or broken. Digitization has made it possible to acquire, manage, and interpret pathology information generated from digitized glass slides. Tissue slides can be shared immediately, speeding diagnoses.
Furthermore, digital pathology data are becoming increasingly available in electronic health records. These data are being linked to laboratory information system (LIS) software, where pathology test results can be melded with additional patient test and demographic information, according to the "Worldwide Market for In Vitro Diagnostic Tests" report, published by Kalorama Information.
Healthcare systems are becoming more familiar with, and invested in, the establishment of addressable databases of large-scale, clinical, phenotyping patient data. These could support pathologists' ability to develop evidence-based patient data analyses.
Pathology is evolving, and if current trends continue, fully automated digital pathology will become the norm, at least for special and difficult-to-analyze cases. Of course, to get the full benefit of digital pathology, the system would have to be integrated with a lab's anatomical pathology laboratory information system (APLIS).
The integrated APLIS-digital pathology system would speed pathologist review of digital slides, while simultaneously enabling the pathologist to access related patient data and disseminate any findings to the appropriate healthcare providers, among others. An overall digital workflow could spare a lab from costly manual tasks, such as having to match glass slides.
Philips has already been collaborating with LabCorp to incorporate digitized workflows within LabCorp's anatomic pathology services, which are part of its clinical laboratory and end-to-end drug development services, with the goal of optimizing efficiencies, according to the companies. LabCorp also said it will collaborate with interested customers to evaluate their possible transition to digital pathology.
"Labs today are facing a number of mounting pressures," said Nathan Buchbinder, chief product officer and co-founder of Proscia in Philadelphia, a provider of digital and computational pathology software. "In addition to supplying a baseline diagnosis, pathology labs are expected to offer prognostic and quantifiable data that will drive confidence in establishing therapies. The traditional microscope-based approach is not helpful toward that end. Now, digital pathology offers a lab the opportunity to turn itself into an insight factory."
Cost concerns, efficiency may be worth it
However, cost has always been a concern, especially for smaller labs, with digital pathology systems carrying price tags in the $200,000 to $300,000 range. Transitioning to digital pathology is inevitable for labs, which will have to absorb the initial cost, although many could make the transition gradually, according to Buchbinder.
"Clinical labs will need to adopt digital pathology to operate more efficiently," he said. "Many labs already have become more efficient through consolidations and by maximizing the pathologist's time. The next step is process automation for many labs. It's important to offer scalable solutions that meet the needs of each lab, and which are not a financial impediment that would stop a lab from transitioning to digital."
Proscia is selling three editions of its Concentriq digital pathology platform, a subscription-based digital software platform that facilitates image viewing and data management. One is targeted to academic research, another to life science commercial research, and a third to clinical lab workflows. The clinical edition is intended to optimize routine casework performed by the pathologist.
Unlike the Philips system, Proscia's platform is not cleared for use in primary diagnosis. Instead, pathologists use the software to better manage their image-based workflows, facilitate internal analytics, and establish a portal for remote reviews by additional pathologists.
Premier Laboratory in Boulder, CO, initiated its investment in digital pathology with the purchase of a five-slide scanner about a decade ago, and it recently invested in a 400-slide scanner and data management system, according to Elizabeth Chlipala, laboratory manager at the facility. The lab offers histology and pathology services, as well as digital slide scanning.
"With digital pathology, it's much faster to upload slides and send them to clients. There's no holdup caused by problems with the mail," Chlipala said. Essentially, digital pathology facilitates digital review and image analysis, improving workflow, she noted.
One issue, though, is that some pathologists may feel less comfortable viewing images on a computer screen instead of through a microscope, according to Chlipala. Another concern has involved properly viewing slides that contain uneven sections, voids, or other artifacts. With a microscope, a pathologist is able to fine focus and see through the artifact. But it's more difficult to properly visualize on a computer screen, she explained.
Despite such concerns, Chlipala expects more labs to purchase digital pathology systems as they look to speed workflow and optimize communication with healthcare providers and clients.