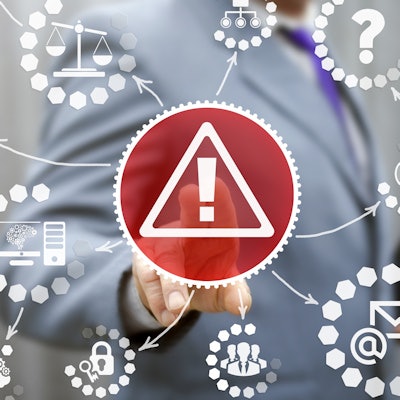 A wearable tracking tool and machine learning algorithm could augment molecular testing for COVID-19 and other conditions and provide an early warning that an infection is on the way before symptoms begin, according to a new study.
The research, published Tuesday in BMJ Open, suggests that combining a wearable tracker with artificial intelligence (AI) could detect the onset of an infection days before symptoms start.
In the study, an international research team leveraged data collected by people who wore the Ava bracelet, a device cleared by the U.S. Food and Drug Administration (FDA) and marketed as a fertility tracker by a Zurich-based firm, also called Ava.
The researchers found the bracelet useful for monitoring breathing rate, heart rate, heart rate variability, wrist skin temperature, and blood flow, and for tracking sleep quantity and quality.
They then used the data to develop a neural network algorithm that identified 68% of the study participants that tested positive for COVID-19 two days prior to symptom onset.
"Wearable sensor technology is an easy-to-use, low-cost method for enabling individuals to track their health and wellbeing during a pandemic," the researchers wrote. "Our research shows how these devices, partnered with artificial intelligence, can push the boundaries of personalized medicine and detect illnesses prior to [symptom occurrence], potentially reducing virus transmission in communities."
While an RT-PCR test remains the standard method to confirm a COVID-19 infection, "our findings suggest that a wearable-informed machine learning algorithm may serve as a promising tool for presymptomatic or asymptomatic detection of COVID-19," the group added.
The investigators selected Ava because its data were previously used to inform a machine learning algorithm set up to detect ovulating women's most fertile days in real time, achieving 90% accuracy.
The BMJ Open study enrolled 1,163 participants under the age of 51 from a larger study of the genetic and phenotypic determinants of blood pressure and other cardiovascular risk factors (GAPP).
GAPP was initiated in 2010 with the aim of obtaining a better understanding of the development of cardiovascular risk factors in the general population of Liechtenstein.
For the COVID-19 study, participants wore the Ava bracelet at night between March 2020 and April 2021. The bracelets saved data every 10 seconds, allowing the results to be synchronized with a smartphone app upon waking.
Participants used the app to record any activities that could potentially alter central nervous system functioning, such as the use of alcohol, prescription meds, or recreational drugs, and to record possible COVID-19 symptoms.
They also took rapid antibody tests for SARS-CoV-2; when symptoms indicated the possibility of SARS-CoV-2, they took a PCR test.
Their monitoring data revealed significant changes in physiological indicators during the incubation, presymptomatic, symptomatic, and recovery periods of COVID-19 compared with baseline measurements. COVID-19 symptoms lasted an average of 8.5 days.
The researchers acknowledged that their results may not be more widely applicable. The findings were based on a relatively small sample of people from a single national center, so the patient cohort was not ethnically diverse.
The overall sensitivity achieved was below 80%; the algorithm is now being tested in a larger group of 20,000 participants in the Netherlands, with results expected later this year.
"It would be promising if a sensitivity of 70% to 80% could be demonstrated in the current larger COVID-RED cohort," said Dr. Lorenz Risch, corresponding author for the BMJ Open study and chief medical officer of Liechtenstein-based Dr. Risch Group laboratory.
The proof-of-concept and detection of an "infection in a presymptomatic disease stage adds another potential tool for decreasing transmission rates of infectious diseases," he said, adding, "This approach could potentially be useful in any harmful, highly contagious infectious disease that is characterized by presymptomatic transmission."
For example, such an approach could be deployed for the telemonitoring of susceptible and frail individuals to recognize disease, such as during the flu season, to enable rapid therapeutic and preventive measures, Dr. Risch said.