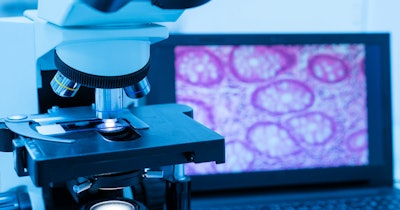 Paige and Leica Biosystems on Monday announced an expanded partnership to enhance digital pathology workflows at hospitals and laboratories worldwide.
Building on a current partnership, Leica Biosystems has selected Paige as the preferred provider of software-as-a-service (SaaS) digital pathology image management and viewing software along with diverse embedded artificial intelligence (AI) solutions for its line of Aperio GT 450 digital pathology slide scanners.
Under the partnership, a co-branded version of Paige's pathology platform will be introduced as the core interface between pathologists and Leica Biosystems hardware.
Users of Aperio GT 450 scanners will have access to Paige's full suite of digital pathology software, including the FullFocus viewer; the AI-enabled worklist FullFolio; Paige Prostate Suite, which includes Paige Prostate Detect; Paige Breast Suite; Paige's suite of biomarker algorithms; and all third-party AI software solutions deployed through Paige.
Leica Biosystems' Aperio instrumentation is used in hospitals and laboratories worldwide.