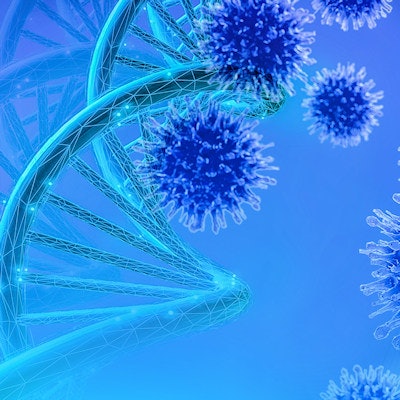 Countries with scarce laboratory resources could identify emerging pathogens by applying genomic sequencing of microbes to blood samples from patients. The approach, described on February 28 in the Proceedings of the National Academy of Sciences, could provide more detail on pathogen dynamics than diagnostics such as polymerase chain reaction (PCR).
The researchers, led by Jennifer Bohl, PhD, of the National Institute of Allergy and Infectious Diseases at the U.S. National Institutes of Health, applied metagenomic next-generation sequencing (mNGS) to obtain a genomic analysis of both the host and microbial communities in the Kampong Speu province in Cambodia. The team then used the results of the mNGS analysis to monitor and understand local disease-causing pathogens with the goal of identifying emerging pathogens and mitigating outbreaks.
MNGS for pathogen identification and monitoring
MNGS is a "shotgun-style" sequencing approach in which all of the nucleic acid (DNA and RNA) in a clinical sample is sequenced simultaneously. A single mNGS test can detect sequence reads corresponding to all kinds of pathogens, including viruses, bacteria, fungi, and parasites.
Until now, the use of mNGS to identify patients with pathogens has been limited to clinical research settings in developed countries. However, the authors argued that applying it in regions such as Cambodia and Laos is important for genomic surveillance of overlooked pathogens.
In these countries, laboratory testing for nonmalarial fevers is limited and diagnostics such as rapid tests for illnesses like dengue fever might not be available, the researchers noted. Additionally, basing the diagnosis purely on symptoms means that pathogens are rarely identified.
"Actionable mNGS surveillance is challenging in resource-scarce settings, but genomics-informed pathogen epidemiology ... is important and globally relevant given major demographic and socioeconomic shifts underway in the region [Southeast Asia] that may increase the likelihood for disease epidemics," the authors wrote.
They also noted that the COVID-19 pandemic demonstrated the importance of real-time surveillance networks to monitor new variants and other emerging pathogens, underlying the need for rapid identification of pathogens in relatively resource-poor settings where outbreaks are more likely to emerge.
Identifying local pathogens using mNGS
Bohl and her colleagues collected blood samples from 489 patients with fever in Chbar Mon, Cambodia. The samples were processed and analyzed for traces of pathogens using 150-nucleotide paired-end sequencing on an Illumina NGS sequencer in a public laboratory in Phnom Penh. Next, microbes were identified in the metagenomic data using the Chan Zuckerberg ID (CZID) portal, a cloud-based, open-source bioinformatics platform. The research took place over a 19-month period from March 2019 to October 2020.
The authors identified pathogenic genetic material in 41.5% of the samples, and seven participants (1.4%) were coinfected with multiple pathogens. Vector-borne disease was the most prevalent clinical category from the mNGS analysis, followed by systemic viral diseases such as hepatitis and pegiviruses.
The most common vector-borne virus was dengue, which was found in 138 of 489 samples, followed by rickettsiae (13 of 489), chikungunya virus (10 of 489), and Plasmodium vivax (6 of
489). The researchers' identification of chikungunya in July 2020 prompted additional national surveillance that ultimately revealed an outbreak of 6,000 cases.
To identify disease risk factors, the researchers correlated the mNGS results to demographic, behavioral, and ecological datasets. They found that occupation and exposure to animals were not significant factors, but living near surface flooding did increase vector-borne disease risk. The 138 dengue cases originated primarily in crop zones that often border urban zones, indicating that dengue transmission in Southeast Asia is both rural and urban in nature.
Other demographic factors that increased the risk of vector-borne diseases included younger age, household car ownership (a surrogate of socioeconomic status), and absence of larvicide use.
The future of mNGS analysis for monitoring of pathogens
The researchers noted that their approach offers a more fine-grained analysis of changing pathogen dynamics than prior surveillance with predetermined targeted diagnostics like PCR or cultures. Furthermore, although targeted diagnostics like PCR or culture are currently cheaper than mNGS, the cost of sequencing is declining, while the efficiency of sequencing workflows is increasing.
Overall, the study demonstrates the feasibility of in-country mNGS and demonstrates how the approach could help build global surveillance networks for emerging COVID-19 variants and other pathogens, according to the authors.
"mNGS pathogen surveillance in these settings is feasible, revealing of diverse microbial landscapes, and paramount to the future of global health security," they concluded.