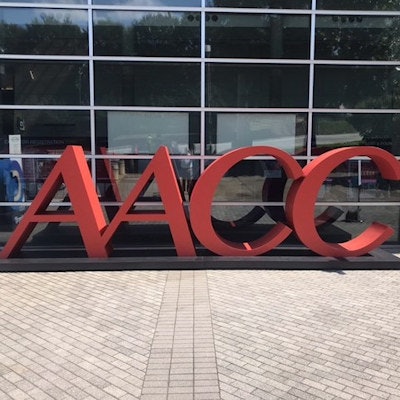 A suite of technologies that diagnose bloodstream infections and sepsis from Day Zero Diagnostics edged out products from two other companies -- one co-founded by Nobel laureate Jennifer Doudna, PhD -- to win the Disruptive Technology Award on September 27 at the American Association for Clinical Chemistry (AACC) annual meeting.
Day Zero Diagnostics' technologies include whole-genome sequencing (WGS) to rapidly diagnose infections directly from clinical samples without the need for cultured growth, algorithms for species identification and drug susceptibility profiles, and a database of WGS and drug susceptibility profiles.
"Day Zero was really founded to revolutionize the mission of infectious disease diagnostics," said Jong Lee, CEO of the company. "We started this company because we believed that whole-genome sequencing is the future of molecular diagnostics for infectious diseases."
In his talk, Lee said that Day Zero's technology can provide a complete diagnosis directly from the blood in less than eight hours, enabling physicians to use a targeted treatment on day zero.
For the first clinical application of its technology, Day Zero focused on bloodstream infections and sepsis. Lee noted that there is an enormous unmet need for sepsis diagnosis, given that sepsis accounts for 1 in 3 hospital deaths, has a mortality rate between 10% and 40%, and generates $62 billion in care costs every year.
Also competing for the award were Mammoth Biosciences and MeMed, and executives from both firms made their pitch at the Atlanta conference.
Mammoth Biosciences, co-founded by Doudna, in part specializes in CRISPR-based diagnostics. The company advanced as a finalist for its programmable CRISPR-based detection platform DETECTR, which searches samples for the presence of specific nucleic acids indicative of disease and provides actionable clinical information.
MeMed offers the MeMed Key multipurpose immunoassay platform for quantitative diagnostic immunoassays based on chemiluminescence detection technology that delivers results within minutes at the point of need.
The AACC Disruptive Technology Award competition recognizes innovative testing and disruptive technology solutions that improve patient care through diagnostic performance or access to high-quality testing. It provides an opportunity for early to midstage startups in the medical device, diagnostic, or digital health/health IT spaces to showcase their technology to a large audience and a panel of judges. This year, the award highlighted developers of artificial intelligence and machine-learning technologies that are advancing medicine and pathology.
This is the fourth year for the award, which has a reputation among diagnostics manufacturers as a potential harbinger of future success. The winning team also receives $5,000 from this year's event sponsors, Labcorp and Pall.