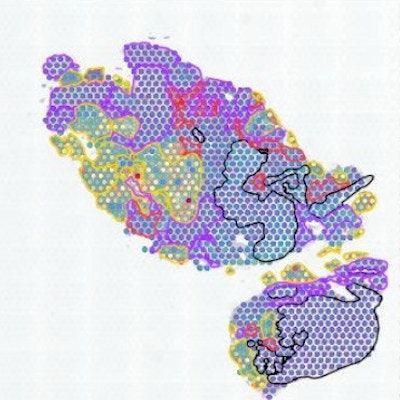 10x Genomics has launched its new Visium Spatial Gene Expression assay for formalin-fixed, paraffin-embedded (FFPE) samples, which gives researchers the ability to assess the whole transcriptome across an entire FFPE tissue sample.
FFPE processing is challenging because of the inherent damage caused to nucleic acids during fixation. The product, which was developed based on requests from customers performing translational research, addresses this challenge by using new chemistry developed for the company's Visium platform that allows for massive throughput and next-generation sequencing of clinical research samples.
The Visium for FFPE assay features the following:
Unbiased whole-transcriptome analysis
Full tissue section coverage that removes analysis boundaries associated with predefined regions of interest
High cellular resolution with one to 10 cells per spot depending on tissue type
Compatibility with histological analyses, allowing for morphological context overlaid with transcriptomic analysis
Ready-to-use assay kit, eliminating the need for specialized instrumentation
10x Genomics is now shipping the Visium for FFPE assay kit, which contains all the reagents and consumables needed for whole-transcriptome analysis in human FFPE tissue sections.