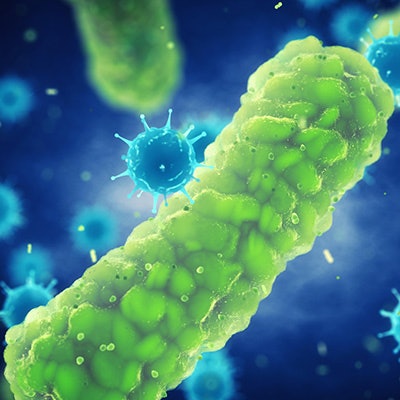 A pathogen detection test based on artificial intelligence (AI) was used to diagnose a patient's rare progressive brain abscess caused by a dental infection. Details were published on July 26 in a case report in the World Journal of Clinical Cases.
The algorithm-based pathogenic sequencing technique, which provides quicker, more precise results than traditional lab bacterial cultures, showed that several types of bacteria that can colonize the oral cavity were found in the 53-year-old woman's brain and spinal cord fluid. She was diagnosed with ventricular and spinal canal empyema, which is rarely seen today due to medical advances.
"The early application of the next-generation sequencing technique can obtain results in a short time and clarify a diagnosis," wrote the authors, led by Dr. Hang Xue of the department of neurotraumatic surgery at the First Hospital of Jilin University in Changchun, China (World J Clin Cases, July 26, 2020, Vol. 8:14, pp. 3114-3121).
Unusual and life-threatening
A brain abscess is a life-threatening disease with a morbidity of 1 in 100,000 people in the U.S. The mortality of a brain abscess was 30% to 60% in the early 1970s, but it has decreased to 0% to 24% in recent years due to advances in neuroimaging, the development of more effective antibiotics, and improved surgical techniques, according to the authors.
Less than 5% of brain abscesses stemming from a dental infection result in a pyocephalus, which is an outflow of pus in the skull. Computed tomography (CT) and magnetic resonance imaging (MRI) scans are used to assist in diagnosis, along with traditional bacterial cultures, but cerebrospinal fluid culture is a time-consuming process with a low positive rate, they wrote. The sequencing technique may offer greater accuracy and a quick turnaround time, the group noted.
During her six-day stay at a local hospital, the woman received antibiotics that did not cover all bacteria infecting her brain. After she was sent to an intensive care unit and underwent sequencing, she was given antibiotics with anti-infective treatment, as well as local oral treatment. Unfortunately, the delay in receiving the appropriate treatment caused irreversible damage to her brainstem, leading to her death two months later.
A 53-year-old woman
The woman had high blood pressure for 10 years, which was not well-controlled with an oral antihypertensive drug, and untreated dental caries for three years. The rest of her and her family's medical history was unremarkable. When she arrived at her local hospital, she was in narcosis and had no autonomous respiration. She had a score of E3V1M4 on the Glasgow Coma Scale, as well as extensive lesions and loose second molars in her bilateral jaw, the authors wrote.
The next-generation sequencing technique was used to sequence her sample's nucleic acid, which was then evaluated via a microorganism database. The algorithm then identifies suspected species; within one day, the results were obtained and indicated that the following bacteria, most of which are found in the oral cavity, were in the patient's brain and spinal fluid:
Fusobacterium
Porphyromonas
Solobacterium
Prevotella
Dialister
Fusobacterium nucleatum
Fusobacterium hwasookii
Porphyromonas endodontalis
Solobacterium moorei
Prevotella intermedia
Dialister pneumosintes
Traditional lab cultures were also performed but did not detect the bacteria, according to the authors.
An MRI scan of the head revealed a quasicircular liquid signal opacity in the left cerebellum. The adjacent brainstem was compressed, the fourth ventricle became narrower, and ventricular hydrops accompanied by paraventricular edema was observed. Spinal MRI revealed stripe-like long T1 and long T2 signals in C7-T2 spinal canals, they wrote.
The woman underwent several extraventricular drainages and lumbar punctures to treat her ventricular and spinal canal empyema. Her regimen was adjusted to vancomycin, meropenem, gentamicin, and S-ornidazole combined with anti-infective treatment.
Root of infection
Dental infection-induced brain abscesses can develop through systemic bacteremia, direct drainage to the cavernous sinus through facial and pterygoid vein systems, infection through continuous diffusion, and lymphatic drainage. Doctors believe systemic hematogenous infection caused the patient's condition. She had a past dental operation and did not receive systemic treatment. Dental surgeries cause periodontal vascular endothelial damage, resulting in oral bacteria entering the blood, the authors noted.
Tricky oral cavity pathogens
When clinicians suspect an infection is derived from the oral cavity, standard lab bacterial cultures may not be the best option.
"Under certain circumstances, standard bacterial culture may not serve as an effective pathogen identification method, particularly when the source of infection is suspected to be derived from the oral cavity," the authors wrote.