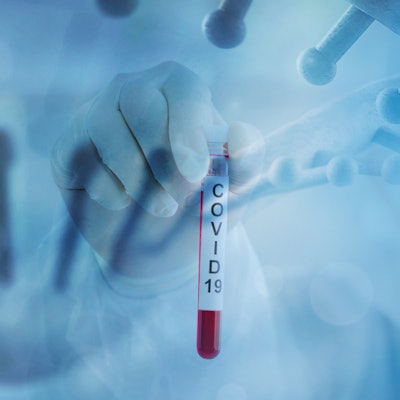 Patients who have tested negative with reverse transcription polymerase chain reaction (RT-PCR) can still have COVID-19. Moreover, a negative RT-PCR test result should not preclude evidence-based treatment when caregivers suspect a patient is ill with COVID-19, according to research published February 13 in BMC Infectious Diseases.
Rutgers University investigators and colleagues elsewhere found a high likelihood of acute COVID-19 among patients who tested negative on RT-PCR and who had the usual signs and symptoms of SARS-CoV-2 infection, even though they weren't undergoing treatment.
Here's the problem: A decline in SARS-CoV-2 shedding from upper respiratory tract specimens within the first week after the onset of COVID-19 symptoms has been associated with an increase in the RT-PCR false-negative rate, from 2% to 29%.
RT-PCR has a higher positivity rate among lower respiratory specimens. But most patients do not spontaneously produce sputum and would require potentially symptom-exacerbating or invasive measures to obtain lower respiratory tract samples.
Therefore, a COVID-19 diagnosis could be missed in those hospitalized patients who often present symptoms further along during their infection. Any hesitation on the part of caregivers to treat the infected could lead to delayed or missed interventions and unnecessary empirical therapies directed toward an inaccurate alternative diagnosis, wrote the research team, which included Dr. David Alland and Dr. Yingda Xie of Rutgers.
To get a clearer picture of which patients may have COVID-19, the researchers applied comparative serology from early in the COVID-19 pandemic when background seroprevalence was low. They used serologic evidence to estimate the likelihood of SARS-CoV-2 infection among RT-PCR-negative patients who presented clinical signs or symptoms compatible with COVID-19.
The group reasoned that comparing relative seropositivity rates early in the pandemic with COVID-19-confirmed and COVID-19-negative cohorts could confirm the likelihood of acute COVID-19 in RT-PCR-negative patients who have the clinical signs of COVID-19, even though serologic tests have limited standalone value in diagnosing acute COVID-19 at the individual level.
Between April 2020 and October 2020, the researchers conducted serologic testing of the following:
Patients with signs and symptoms of COVID-19 who repeatedly tested negative on RT-PCR -- designating them as 20 COVID-19 probables
Patients who had signs and symptoms of COVID-19 but with a potential alternative diagnosis -- 15 individuals suspected of having COVID-19
Patients who did not have any signs and symptoms of COVID-19 -- 43 nonsuspects
40 RT-PCR-confirmed COVID-19 patients
55 prepandemic patients -- the controls -- whose blood samples were collected before 2019 as part of routine clinical diagnoses
To evaluate whether the probables and suspects were truly COVID-19-positive, plasma samples from patients in all cohorts were analyzed for immunoglobulin G (IgG) and immunoglobulin M (IgM) antibodies.
The researchers identified a cohort of RT-PCR-negative patients with clinical signs and symptoms of acute COVID-19 who had serologic evidence of SARS-CoV-2 infection that was multifold times greater than the nonsuspects, and which was comparable to that of RT-PCR-confirmed COVID-19.
The group found that the COVID-19-probable patients had similar seropositivity and levels of IgG and IgM antibodies as propensity score-matched RT-PCR-confirmed COVID-19 patients: 60% versus 80% for IgG, and 50% versus 72.5% for IgM. But the probables had multifold higher seropositivity rates than the suspects and nonsuspects: 60% versus 13.3% and 11.6% for IgG, and 50% versus 0% and 4.7% for IgM, respectively.
In the absence of an alternative diagnosis, the COVID-19-probable patients had multifold higher IgG and IgM seropositivity and neutralization rates compared with background seroprevalence approximated by matched nonsuspect controls, the group wrote.
Furthermore, the seropositivity, IgG and IgM levels, and neutralization potency among the probable patients did not differ significantly from those of PCR-confirmed COVID-19 patients who were propensity score-matched by age, symptom duration, and severity of their disease.
Yet the researchers determined that the probables were half as likely to receive any COVID-19 treatment than the RT-PCR-confirmed COVID-19 patients whose illness was just as severe.
Although serology has limited value in diagnosing acute COVID-19, the researchers could not rule out seroprevalence or preexisting neutralizing antibodies among the probables individually. Their aggregate SARS-CoV-2 serologic profiles were comparable to those of PCR-confirmed COVID-19 patients and were multifold levels higher than the background prevalence represented by the nonsuspect patients.
The results support a substantial likelihood that acute COVID-19 was present in the probable group, according to the researchers.
"Despite similar seropositivity and disease severity rates, our PCR-confirmed cohort was twice as likely to receive COVID treatment than our probables cohort," they wrote. "This discrepancy implicates missed potential opportunities to prevent early progression of mild-moderate disease in high-risk patients, and potentially reduce morbidity and/or mortality in severe disease."
Even if an RT-PCR test is negative, greater attention must be given to those patients who present signs and symptoms of COVID-19, especially when no alternative diagnosis is apparent, they concluded. These patients could benefit from evidence-based COVID-19 therapies.